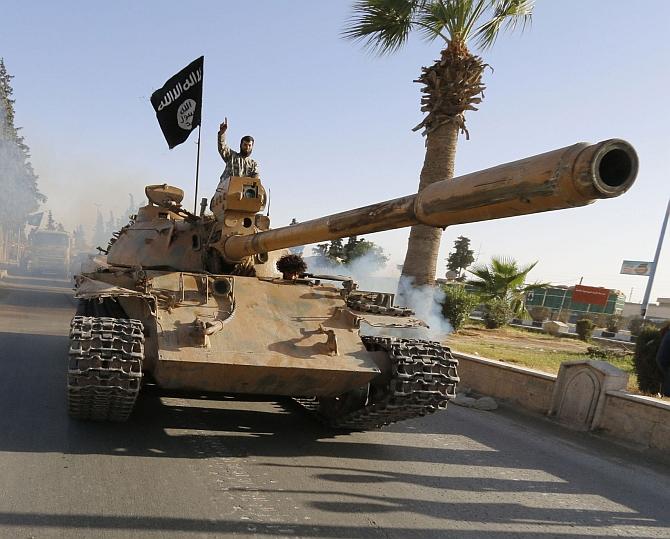 The government believes that 39 Indians held hostage by Islamic State in Iraq are still alive as there is no confirmation of reports that they have been killed, Parliament was told on Friday amid concerns express by members over their fate.
External Affairs Minister Sushma Swaraj made statements in both Lok Sabha and Rajya Sabha after a media report claimed that the 39 Indians, captured over five months back, had been killed by the dreaded Islamist group.
The media report was based on the statements of two Bangladeshis who quoted an escapee, Harjeet, as claiming that kidnapped Indians have been killed, Swaraj said, but added that there was no proof to confirm it.
"On the one hand there is one source about which there is no confirmation. Six different sources have informed the government that they have not been killed," she said in identical statements after Deputy Leader of Congress Anand Sharma raised the matter in Rajya Sabha and his party colleague Jyotiraditya Scindia in Lok Sabha.
Asking the House whether the government should go by what one person was saying or believe six other sources, she said as a responsible government she would not like to give up the search till there is any concrete proof.
"We do not accept his statement. Our prayers and hopes are alive. Our search for their safe release is on.... It is my duty and responsibility to keep the hope of tracing them alive and bring them home safely," Swaraj said.
She informed Parliament that two more officers, who can speak Arabic also, have been deployed for securing their release besides a senior Indian Foreign Service officer who is already on the job for the last five months.
The external affairs minister said she had received written communication from different sources which maintain that the abducted Indians were not killed and that she had shared the information with Finance Minister Arun Jaitley and Food Processing Industries Minister Harsimrat Kaur Badal as most of them were from Punjab.
While stating this, she emphasised that members cannot go by media reports and assume that they have been killed as there is no corroboration to the claim. There is "no solid proof of either they being alive or killed", she said.
A media report cited statements of Shafi and Hassan, Bangladeshis who claimed to have been released by there is captors after segregating them from Indians, to claim that 39 Indians had been killed. They based their claim on what they had been told by Harjeet.
"Shafi and Hassan have made the claim but they are not eye-witnesses and their statements are only secondary in nature. They have not said they were killed before them, they are only quoting Harjeet, who is one source whose confirmation no one has made," she said.
Harjeet was in the group of 40 Indians who had been kidnapped in June but he later managed to escape.
Swaraj confirmed that Harjeet, the only escapee from the custody of ISIS, was in the government's safe custody.
"He faces threat to his life and can endanger the lives of others also," she said, as he is the lone person who has escaped from their captivity.
The government is working in "adverse circumstances" for ensuring their release and have been utilising all resources in the Gulf, including establishing contact with heads of states in the area, the minister said.
She said there is no issue of anyone trying to take credit for securing their release and government has sought the help of former minister of state for external affairs E Ahamed, who has good contacts in the Gulf countries, to secure their release.
Raising the issue in Rajya Sabha soon after the House assembled, Anand Sharma said government had made a statement in the House on June 22 claiming that contact had been established with the abducted people, seven days after the alleged killing.
"Both the Houses have been misled by the government. If this was known, then why this was not told in the House and why assurances were given to the families of those abducted... How did this happen? Was the government really in the dark and kept sitting and giving assurances?
"With deep sadness, we feel big incidents are happening and the prime minister has not even made one statement on the issue either in the country or abroad. The same PM used to say that we will look into their eye. I know he cannot do anything and is merely making statements. The PM is answerable," said Sharma.
He said the government should ensure the safety and security of lakhs of Indians working in West Asia.
National Democratic Alliance ally Shiromani Akali Dal also wanted clarity on the issue. Bahujan Samajwadi Party chief Mayawati, Janata Dal-United leader Sharad Yadav, Communist Party of India-Marxist's P Rajeeve, Trinamool Congress member Derek O'Obrien, Samajwadi Party member Jaya Bachchan were among others who expressed concern over the media report.
Raising the issue in the Lok Sabha, Scindia accused the external affairs minister of "misleading" the House and claimed that the government had failed to protect the workers.
"If the reports about their being killed long back are correct, then the government has misled the people and Parliament," he said, demanding a "full and transparent reply". He received support from members of CPI(M) and Aam Aadmi Party.
"The government is responsible," Scindia said, adding that earlier the House was told that the release of the 40 workers would come as "an Eid gift".
Swaraj took objection to allegations that she had misled the House. At this, Leader of Congress Mallikarjun Kharge said no one has cast aspersions on her and all were only concerned about the well-being of the abducted workers.
In the midst of the discussion, BJP member S S Ahluwalia said, "Please stop this discussion as the Islamic State is also watching the Parliament session as it is in public."
To this, Swaraj said "such operations depend on complete secrecy. Please don't ask me to elaborate on this. The day I get any concrete evidence, either about what Harjeet has said or six of our sources are saying, I will myself report to Parliament."