The Bihar CM and Rahul, through their emissaries, have been in touch to shape an alliance with the Akhilesh Yadav-led SP faction as its head, reports Archis Mohan.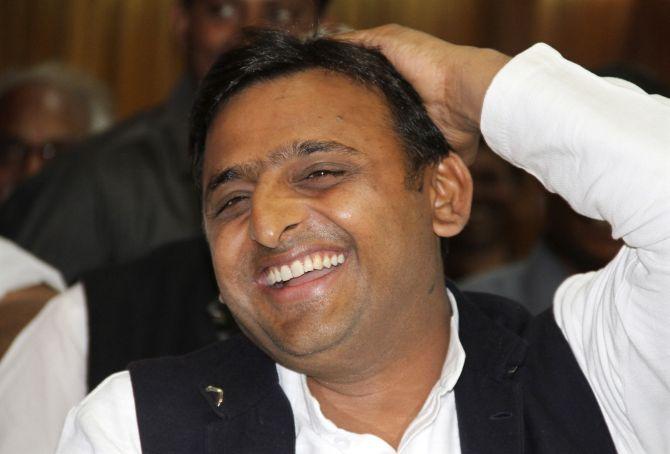 The Samajwadi Party's potential split has opened the possibility for new political alignments in Uttar Pradesh.
According to sources, Bihar Chief Minister Nitish Kumar, also head of the Janata Dal-United, has asked Congress vice president Rahul Gandhi for help in forging an alliance in UP with the Akhilesh Yadav-led SP in the lead.
The Congress leader had played a key role in making Rashtriya Janata Dal chief Lalu Prasad and Nitish strike a pre-poll alliance in the Bihar assembly poll of end-2015. The alliance, in which the Congress was junior partner, defeated the Bharatiya Janata Party and its smaller allies.
The Bihar alliance also paved way for a smoother generational shift in the RJD, with Lalu Prasad's sons, Tej Pratap and Tejaswi, taking key ministerial portfolios in the Kumar-led government. A similar generational shift, although much more bitter, is now in the offing in UP politics, with the SP split.
Kumar and Rahul Gandhi, through their emissaries, have been in touch to shape an alliance that could include the Akhilesh Yadav-led SP faction, the Congress, Ajit Singh's Rashtriya Lok Dal and Nitish Kumar's JD-U. The RLD is also on the cusp of a generational shift, with Ajit Singh's son, Jayant Chaudhary, playing a more active role in that party.
Kumar has already publicly asked Akhilesh to transcend 'family boundaries' and focus on providing clean governance and development.
Political strategists close to Kumar believe an alliance between the Congress, the Akhilesh-led SP and smaller parties could retain both the SP's and Congress's Muslim support bases. And, attract youth, due to the clean image of Akhilesh. They believe this alliance would have better prospects than either the Bharatiya Janata Party or the Mayawati-led Bahujan Samaj Party.
Lalu Prasad, one of whose daughters is married to SP chief Mulayam Singh Yadav's grandnephew, is expected to be neutral to this proposal, given his robust opposition to the BJP. Unlike Bihar, where Prasad did get such consolidated votes but was also a liability among certain sections of the electorate, the Akhilesh-led alliance will not suffer from such limitations, sources felt.
The proposal for such an alliance had found enthusiastic response from socialist groups that had collected in Mumbai for a meeting that concluded on Saturday.
Photograph: Pawan Kumar/Reuters