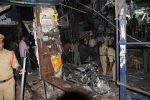 The National Investigation Agency has detained six persons from Bihar in connection with the Hyderabad blasts case. A series of raids in Maharashtra, Andhra Pradesh, Uttar Pradesh and Bihar by the NIA led to the detention.
Their role in the Hyderabad blasts case has not been revealed by the NIA.
Although a very strong Bihar link is emerging into the Hyderabad blasts case, NIA sources say that it could have been the job of multi modules of the organisation.
NIA officials said the detainees have links to the Indian Mujahideen. They were trying to establish if the youngsters were part of the Darbhanga module of the IM, which could have carried out the Hyderabad blasts.
The NIA hopes that the questioning the detainees will give them leads on an IM operative Tabrez, who is suspected to have been at the blast sites.
According to officials in the Hyderabad police department, one of the three persons caught on the CCTV camera was Tabrez, an operative who has been elusive for many years now.
The CCTV footage indicates that it was Tabrez who was guiding the operation that evening.
Tabrez hails from Azamgarh in UP and is wanted in the Pune blasts, too.