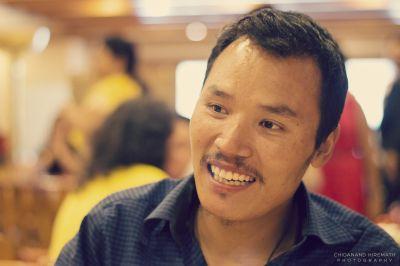 Ten-time Everest summiteer Tendi Sherpa tells Rediff.com contributor Anusha Subramanian why he cancelled his international climbing assignments to be with his community in the worst affected districts of earthquake hit Nepal.
You may know the world's best footballers and cricketers, but how many can name the world's best climbers? Clearly, mountaineering as a sport is not widely popular and that's why when a top notch climber from Nepal came down to Mumbai, his visit went largely unnoticed.
Tendi Sherpa, a 10-time Everest summiteer and one of the few Nepalis to accomplish the feat, was in Mumbai last week to support a photo exhibition by fellow Mountaineer Kuntal Joisher, at the Nehru Centre's Warli Hall.
The exhibition titled 'Nepal Himalayas: A journey through the kingdom of snow and ice' was put together to collect funds for Nepal's earthquake relief. The exhibition was supported by the Himalayan Club and all funds raised through the sale of the photos will go towards relief work in Nepal that was devastated by a massive earthquake in April.
Joisher, the second civilian to summit Mt Manaslu in Nepal, started his love affair with Nepal way back in 1984 when he visited the country as a four-year-old. In the last few years Joisher has spent several months photographing and climbing the Himalayas of Nepal. "I consider Nepal to be my second home. Today, Nepal is at the beginning of a long and painful road to recovery, and I feel that we must do all we can to support it," says Joisher. Tourism and adventure travel brings in significant income for Nepal and is seen as a great way to rebuild a healthy and sustainable future for Nepal.
Through his two-day exhibition Joisher took the viewers on a visual journey through some of the most spectacular big mountain scenery in the world, inspiring them to fall in love with Nepal.
"I hope that all those who visit this exhibition would consider spending their next vacation in Nepal and thereby contribute positively towards rebuilding the devastated country," he says.
ALSO READ: Inside Nepal: Escaping the avalanche to feed puri-bhaji to survivors
For Tendi Sherpa the photo exhibition was a kind gesture to his motherland. He says he is thankful to all those who are helping his country. Joisher has been able to raise approximately Rs 3.5 lakh through this exhibition for Nepal.
Tendi, who hails from a remote village called Kembalung in Sanhuwasaba, has cancelled all his international climbing assignments to work for the next couple of months as a mountain guide for UN's World Food Programme.
"Generally at this time of the year I am in Europe and Latin America where I work as a mountain guide. But right now being with my community and helping them is of prime importance to me," says Tendi.
He has been hired specifically to find trails and build new ones in Sindhupal Chowk's far flung upper reaches. Sindhupal Chowk is one of the worst affected districts hit by the earthquake where most villages have been razed to the ground.
"I have been roped in to find new trails and see if the existing ones can be used by the villagers. This is being done to see how we can continue to get relief material up to the villagers," says Tendi. "My duty is also to tell the villagers to avoid shortcuts and use the longer trails for safety," he adds.
Tendi is currently working in Gumba and Golche Village Development Committees of Sindhupal Chowk that are landslide prone areas. With the monsoons hitting Nepal, the affected districts have become more vulnerable and precarious.
In Gumba VDC there is no road access and no bridges between villages. One has to take the mountain trail or the helicopter to reach there. This is the plight of the many VDCs in the upper districts of the other affected districts such as Dholkha, Rusawa, Sindhuli, Ramechap, Dhading and Gorkha.
Tendi says that since supplies to these villages have to be taken on foot, he has suggested to the officials of the United Nations World Food Programme that they use local villagers to carry the food and pay them for doing it.
Tendi says that ever since he returned from Everest base camp after the earthquake, he has got in touch with his clients who have supported him in every way. He started with distribution of 70 dome tents in birthing health centres, so that deliveries can take place without a hitch, and the mother and child can be kept healthy and safe.
He also supplied good quality headlamps to midwives to be able to safely deliver babies. He also distributed 267 sacks of rice of 30 kg each in Ramecha in Rausuwa district.
Talking about mountaineering and guiding, Tendi says it took him 10 whole years to complete his international guide certification courses and become a UIAGM certified guide. He spent $17,000 (about Rs 10.78 lakh) to complete the course and get the certification.
UIAGM certification is the highest certification for mountain guiding that lays full stress on all aspects of guiding such as communication, technical and soft skills, navigation, decision making, alertness on the mountains and above all safety in the mountains.
Tendi who speaks nine languages says, "It is very important that a mountain professional should first think about safety of his clients and Sherpas in the mountains when guiding a trip in the high altitudes or even during simple treks." He says, "Unlike the west, Nepal is still new and trying to develop this culture of safety among all adventure companies and mountain guides." Today in all there are 32 Sherpas in Nepal who are UIAGM certified guides.
Image: Mountaineer Tendi Sherpa Photograph: Chidanand Hiremath