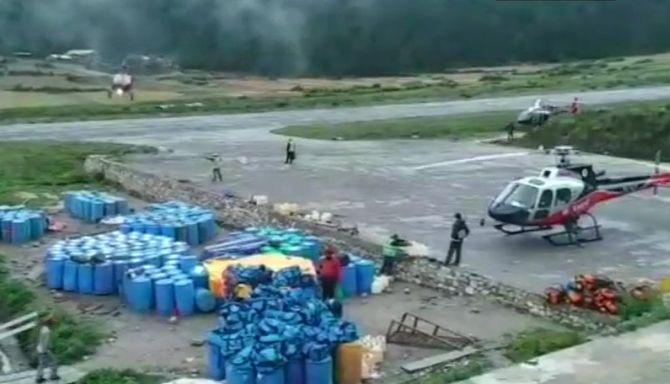 Nearly 150 Indian pilgrims were evacuated safely on Tuesday as rescue work intensified to bring back over 1,500 Indians who have been stranded in Nepal's mountainous region due to heavy rain while returning from the Kailash Mansarovar pilgrimage in Tibet.
Two pilgrims -- Leela Narayanan Mandredath, 56, of Kerala and Satya Laxmi of Andhra Pradesh -- have died due to high altitude sickness in Simikot and heart attack in Tibet respectively, the Indian Embassy said.
Their bodies were brought by special helicopters to Kathmandu and Nepalganj respectively, it said in a statement.
"So far 143 pilgrims have been evacuated from Hilsa to Simikot," an Indian Embassy official told PTI.
While Hilsa is extremely infrastructure lean, Simikot has decent boarding, communication and medical facilities.
"The Mission, in liaison with local airport authorities and flight operators, operated 7 commercial flights vide which 104 pilgrims were evacuated from Simikot to Nepalganj, which is a fairly big city with all modern facilities and three hours road connectivity to Lucknow," the embassy said.
There were 525 Indian pilgrims stranded in Simikot, 550 in Hilsa and another 500 more in Tibet.
The Indian Embassy is already in touch with Nepal Army, which has kept a helicopter in state of readiness to operate as and when weather improves, it said.
"The situation continues is under control and there is no need to panic," it said, and hoped that all Indians would be evacuated over next to three four days depending on the weather condition.
The embassy on Tuesday sent a four member team to Nepalganj. The team would set up camp offices for assistance to stranded pilgrims in Simikot and Hilsa.
Four embassy staff, two each in Simikot and Tibet, have been deployed with necessary facilities so that the stranded pilgrims could contact with their family members in India, the official said.
The embassy is continuously monitoring the situation along Nepalganj-Simikot-Hilsa route of Kailash Mansarovar Yatra (through Nepal).
The embassy said it has placed its representatives in Nepalganj and Simikot, who are personally in touch with every stranded pilgrim. They are ensuring that proper food and lodging facilities are available to all the pilgrims.
It has also asked all tour operators to try and hold pilgrims back on the Tibet side as far as possible since the medical and civic facilities on Nepal side are inadequate.
In Simikot, a health check up has been carried out on all the elderly pilgrims and they are being provided required medical help.
The embassy has already set up a hotline for pilgrims and their family members, which also comprises other language speaking staff for Tamil, Telugu, Kannada and Malayalam speakers.
The pilgrimage to Kailash Mansarovar in Tibetan region of China is considered holy by Hindus, Buddhists and Jains. Every year, hundreds of Indians undertake the 'yatra' which involves trekking under inhospitable conditions.