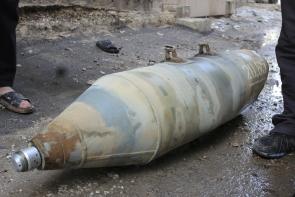 The Indian Navy has disposed 90 unexploded ordinances recovered during dredging operations carried out in the Arabian Sea off Mumbai.
"The Jawaharlal Nehru Port Trust had requested the Indian Navy for assistance in safe disposal of these unexploded ordinances," a defence spokesperson said in Mumbai.
The navy responded expeditiously to the request and provided its team of experts from the explosive ordinance disposal squad as well as the naval armament depot for disposal of the UXOS, he said. A total of 90 UXOS have been disposed so far, he added.
Shipping authorities have undertaken a capital project for widening and deepening of the main channel of Mumbai to improve capability and facilitate movement of higher tonnage and deeper draught vessels, he said.
"As part of these objectives, two trailing suction hopper dredgers - the TSHD Queen of Netherlands and TSHD HAM 318 -- were pressed into service and about 20 per cent of the work has been completed.
"However, since April 2013, the dredging operations have been hampered by the recovery of unexploded ordinances in the channel," the spokesperson said.

Image: An unexploded ordinance | Photograph: Reuters