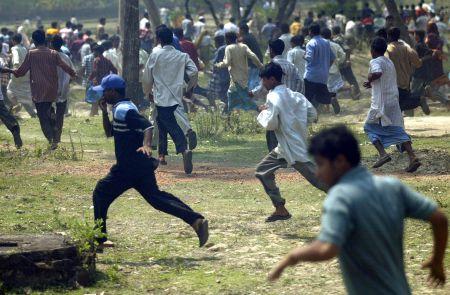 The Trinamool government, which cashed in on the Nandigram protests in West Bengal politics, has not yet given the Central Bureau of Investigation the sanction to prosecute five police officers involved in the 2007 police firing which killed 14 villagers.
The agency has now filed chargesheets without giving alleged role of these five state police officers.
It has filed two chargesheets recently before the special CBI court in Kolkata in the Nandigram firing in which 14 people were killed on March 14, 2007.
There was no reason forthcoming as to why the state government is still reticent on not giving the sanction, CBI sources said.
Agency sources said the then chief minister Buddhadeb Bhattacharjee, who was also holding the charge of Home Ministry at the time of firing, was not examined by the CBI during its probe as it did not find any evidence against him.
In one of the chargesheets, CBI named 132 private persons including some villagers but its request seeking sanction to prosecute two officers sub-inspectors Shambhu Das and Amit Hati and a doctor, Laxmi Kant Ghosh, all state government officials, CBI sources said.
In another chargesheet, CBI has made 37 accused, all private persons, and sought sanction to prosecute Debashis Boral and Satyajit Bandopadhyay, both additional SPs, and Sekhar Roy, sub-inspector Nandigram, sources said.
The state government headed by Mamata Banerjee has not given any word to the agency to proceed with chargesheet against officials who were allegedly involved in the firing which killed 14 villagers protesting against acquisition of their land for a proposed special economic zone, they said.
The agency has also recommended disciplinary action against then Inspector General Arun Gupta, and then SP G Anil Srinivas, both IPS officers, to the state government.
In its chargesheet the CBI has booked all those named under Indian Penal Code sections related to rioting (147, 148), unlawful assembly (149), voluntarily causing hurt to deter and public servant from his duty (332) among others.
In the absence of sanction of prosecution, CBI cannot charge sheet the accused police officials which are state government officials, CBI sources said.
The sources said request seeking the sanction was given to the state government nearly a year back but no decision has been communicated to the agency so far.
The Calcutta high court in June this year had directed the CBI to sort out the issue with the State government so that criminal proceedings could be initiated against the accused police officers, they said.
A mob of nearly 5,000 villagers in Nandigram bloc in East Midnapore district had fought a pitched battle with security personnel on 14 March, 2007 leading to police firing in which 14 of them were killed and more than 75, including a number of policemen, were injured.
The villagers were protesting against a move to acquire their land by the West Bengal government for setting up a special economic zone.
The Nandigram firing along with the agitation at Singur in Hooghly district against setting up of a small car plant later pitchforked Mamata Banerjee's Trinamool Congress to power in the 2011 assembly election with a massive mandate.
A division bench of Calcutta high court comprising of then Chief Justice SS Nijjar and Justice Pinaki Chandra Ghosh had taken suo moto cognisance of the police firing and had ordered a CBI probe next day of the incident.
The agency had submitted a preliminary report after which the high court termed the firing as unconstitutional and directed the agency to continue with its probe into the incident.
Image: Villagers run as police fire teargas shells in Nandigram in March,, 2007.
Photograph: Jayanta Shaw/Reuters