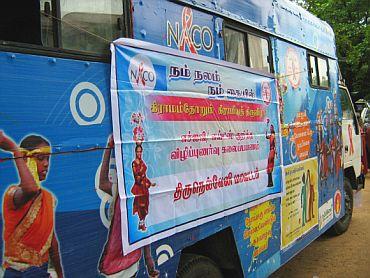 A Ganesh Nadar interacts with a number of HIV patients-turned-activists at an awareness function at Tirunelveli which was organised to commemorate the World Aids Day. He comes to know that amid the gloom that has confined their lives, most of them are, however, optimistic about the fact that discrimination against HIV+ patients has gone down.
The district collectorate at Tirunelveli, Tamil Nadu, had arranged for a function to commemorate World Aids Day, which falls on December 1, on Thursday.
The organisers of the event had invited HIV+ patients, representatives of different NGOs, students, school children and performing artists for the function.
Shockingly, Tiruenlveli District Collector R Selvaraj, who was supposed to inaugurate the function, did not turn up, though he was present at the same compound.
The fact that the collector could not spare even an hour for the HIV+ patients did not amuse the people gathered for the function.
G Kumar, president of the Tamil Nadu Positive People's network, who was one of the speakers at the event, pointed out, "There is no discrimination in the family until there is a property dispute. Then the HIV+ victim becomes a small share holder. He loses most of his/her rights as his/her life expectancy is not the same as the others".
But in most of the work places these days, there isn't much discrimination against HIV+ patients, he added.
However, 'one place that has not changed in the last decade is the hospitals. The doctor gives instructions and goes away. But you should see the expressions of the people who give us injections, drips, medicines or dress our wounds. They treat us like some evil satan. They will not treat us immediately also. They will keep us waiting for hours while they finish all their other work and then come to us,' Kumar noted.
Kumar married Jasinda a few years back. She had two children from her first husband who died after infecting her with HIV+. She has one child with Kumar. All her children do not have the dreaded disease.

Jaisinda was infected with HIV+ way back in 1997 and is on Antiretroviral drugs, which she gets free from the government.
She works in the government-sponsored HIV intervention program to help victims.
"In the last ten years, discrimination against HIV+ patients has gone down. People now realise that they cannot get infected by just talking to us, and so they treat us well. Also, the HIV people have become more aware of their rights. They will fight for their rights. Earlier they would shrink and cry, and attempt suicide," Jaisinda says.

Daisy, who has been living with HIV+ since 2005, has three kids, who all are safe from the disease. She also got infected from her husband, who is now dead. She looks after her kids by working with other HIV patients.

"I do not face any discrimination anywhere. I have been working to spread awareness about HIV in schools, colleges, villages and towns, so everyone knows I am positive," Daisy says.
Another patient present at the event, a very pretty girl called Selvi, said that she got married when she was 18, and had a boy three years later.
Only after Selvi's husband died that she came to know from the doctor that he was an AIDS patient.
Surprisingly, Selvi is not bitter to the fact that she had to pay the price because of her husband. She also works with the Tamil Nadu Positive People's network.
"My only aim in life is to see that this virus dies with us, and no more people are infected," she says.
Ramola has been living with HIV for the past 15 years. She too blames her husband for her condition.
Ramola says that earlier there was lots of discrimination.
"People did not talk to me, sit next to me or eat with me. Now they are more tolerant," she adds.

"There are lots of awareness camps now and people know that HIV does not spread easily. You have to have sex to get it or get a blood transfusion," she points out.

Gautami looks physically strong. One cannot believe that she has been carrying the HIV virus for the last ten years.
"There is no discrimination now but still jobs are not easy to get (for HIV patients). People do not employ us easily. They think we are sick and we do not have the energy of normal people and thus we will not be able to do our best," she says.

"Who will look after my three children if anything happens to me?," she, however, bemoans.
Image: A bus which is used to spread awareness about HIV in the interiors is seen at the event.
Photograph: A Ganesh Nadar/Rediff.com