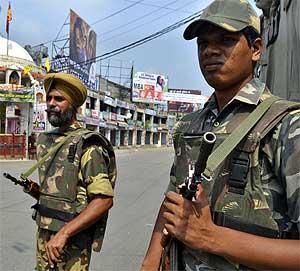 The Aligarh Muslim University Teachers' Association on Thursday urged political parties "not to play politics over the dead bodies" of the victims of the communal clashes in Muzaffarnagar.
The executive committee of the AMUTA passed a resolution asking politicians to refrain from making inflammatory statements which could further flare up the situation in the troubled areas.
The resolution stated that normalcy was still a distany reality in the troubled districts of western Uttar Pradesh.
It said that there was strong evidence to suggest that the recent communal disturbances were a deliberate attempt to foment passions in the state ahead of the Lok Sabha elections in order to polarise votes on communal lines.
"This angle has to be probed by a high level enquiry," the resolution said.
Talking to reporters, AMUTA secretary Aftab Alam said that the need of the hour was to control the situation with an iron hand and immediately set up fast-track courts to punish all those responsible for the violence.
Alam said that a time bound high-level inquiry should be instituted by the National Human Right Commission and the National Commission of Minorities.
He said media reports which suggested that "students of Darul Uloom Deoband Theological school travelling on trains were attacked" were a matter of serious concern.
The resolution also demanded punitive action against all those officials who allowed tension to simmer for several days and failed to take preventive steps.
Meanwhile, the Jamiat Ulama-i-Hind has shot off a letter to Prime Minister Manmohan Singh, demanding the dismissal of the Akhilesh Yadav government for its "failure and deliberate carelessness" in quelling the violence in western Uttar Pradesh.
General secretary of the Islamic outfit Maulana Mahmood Madani expressed disappointment over the deteriorating law and order situation in the affected region after visiting the riot-hit areas of Muzaffarnagar and Shamli on Wednesday.
Madani said he, along with the JUH central delegation, visited several riot-hit areas and was "shocked to learn that despite tall assurances from the ruling government, forces were nowhere present in many villages".
"People are still fleeing their home, leaving behind their animals and properties at the mercy of the miscreants," he said.
"We have written a letter to the prime minister, reiterating our demand and seeking his appointment to apprise him of the actual situation in the disturbed region that we have seen with naked eyes," he said.
Madani also blamed the UP government for its "failure and deliberate carelessness in quelling the violence".
Image: Soldiers stand guard on a deserted street during a curfew in Muzaffarnagar ' Photograph: Reuters