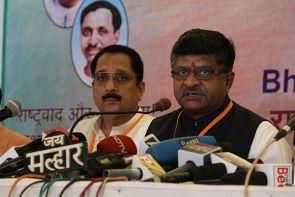 Rashtriya Lok Dal chief Ajit Singh, BJP leader Ravi Shankar Prasad and two BJP MPs were on Monday detained by the police after they attempted to enter UP to visit violence-hit Muzaffarnagar district.
Singh, along with his son Jayant Choudhary, an MP from Mathura, reached UP Gate at around 11.30 am and were detained to prevent them from proceeding towards the trouble areas, officials said.
Accusing the UP administration of failure to act in time, Singh said, "There was an incident in Shamli prior to this incident. Had the administration taken appropriate steps at that time and made the people feel that justice would prevail and police taken some action, then this situation would not have happened."
The RLD leader said, "If the administration is not keen to maintain peace and harmony, if they are not in a situation to preserve harmony, we will go there on Tuesday or in the coming days." Later, the Civil Aviation Minister and his son decided to return to Delhi.
Prasad, who was also detained at UP Gate by the police at around 1.50 pm, said he along with Lok Sabha MPs Rajendra Agarwal (Meerut) and Rama Shankar (Agra) were going with the objective to create "sadbhavna" (harmony) and to appeal to the people for peace besides meeting the injured.
"Yet we are prevented from going....The larger issue is what is happening. It is not the first incident of communal violence, it is 70th or 80th communal violence in last one year.
"Because that administration under the Samajwadi government is repeatedly been forced to given an impression that it can act in a discriminatory (manner). The administration exists for the interest of only one community," Prasad said, adding, "If proper, strong action had been taken at the appropriate time, this would not have ended like this" in Muzaffarnagar.
Asked about allegations that BJP politicians could have been involved in the violence, Prasad said, "To conceal their (UP administration's) failure, they are raking up this abili.
When two young men were killed, there were 12 persons named in the FIR. Why no one was arrested in time? I am sorry, I don't wish to worsen the atmosphere.... I say if anyone is involved action should be taken."
The BJP leaders were taken to Vasundra Guest House.
Police have tightened security arrangements at UP Gate near Loni on way to Muzaffarnagar and a large contingent of personnel has been deployed there.