Hindus will witness a "dramatic" drop-off in births between 2055 and 2060 due to declining fertility in India, which is home to 94 per cent of the community's global population, according to a new Pew research.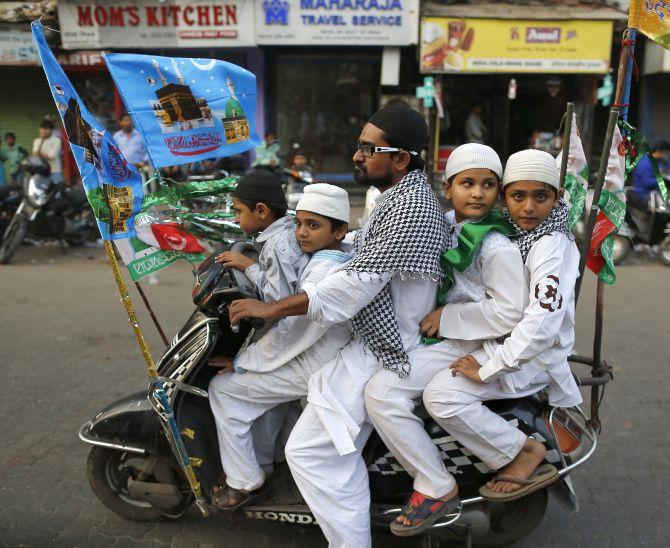 The Pew Research Centre study also said that the number of babies born to Muslim women is expected to overtake those born to Christians world-wide within two decades, making Islam the world's largest religion by 2075.
Beyond 2015, Christian and Muslim mothers are expected to give birth to increasing numbers of babies through 2060.
But Muslim births are projected to rise at a faster rate -- so much so that by 2035 the number of babies born to Muslim mothers will narrowly surpass the number born to Christian mothers. Between 2055 and 2060, the birth gap between the two groups is expected to approach 6 million (232 million births among Muslims vs. 226 million births among Christians).
By contrast, the total number of births is projected to decline steadily between 2015 and 2060 for all other major religious groups, said the study, which was released on Wednesday.
"The drop-off in births will be especially dramatic for Hindus -- who are expected to see 33 million fewer births between 2055 and 2060 than between 2010 and 2015 -- due in large part to declining fertility in India, which is home to 94 per cent of the global Hindu population as of 2015," according to the study titled 'The Changing Global Religious Landscape'.
Between 2010 and 2015, an estimated 68 million babies were born to unaffiliated mothers, compared with 109 million to Hindu mothers.
Islam is already the world's fastest-growing religion, according to the study, with the Muslim population increasing by more than 150 million people between 2010 and 2015.
Between 2015 and 2060, the global Muslim population is expected to grow by 70 per cent, while Christianity is projected to grow by 34 per cent -- at which point, the two religions will have similar numbers, the report said.
That baby boom will largely be driven by regional trends in age and fertility, according to Alan Cooperman, director of religion research at Pew.
"It's really a geographic story," he was quoted as saying by the New York Times.
From 2010 to 2015, Christian women gave birth to 223 million babies, about 10 million more than were born to Muslim women.
But the Pew report predict a reversal of that pattern by 2060, when Muslim mothers are projected to give birth to 232 million babies, about six million more than their Christian counterparts.
Some 62 per cent of Muslims live in the Asia-Pacific region with large populations in Indonesia, India, Pakistan, Bangladesh, Iran and Turkey, Pew researchers said.
The report's findings are drawn from the same projections behind a 2015 Pew report that found that the world's Muslim population will match its Christian population by 2070 and surpass it in the decades that follow.
Both rely on data collected over several years from more than 2,500 global censuses. The projections take into account trends in mortality, fertility, age, migration and religious switching.