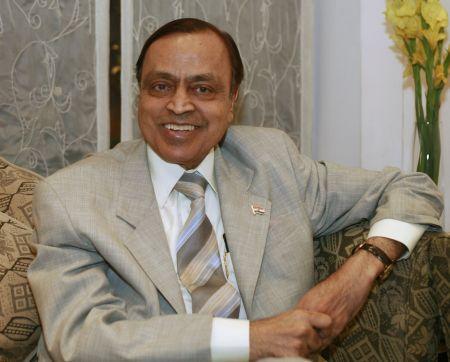 Congress stalwart Murli Deora passed away on Monday morning after battling a prolonged illness. He was a politician who shared rapport across the political and corporate spectrum.
Murli Deora, the Congress stalwart from Maharashtra, was a Gandhi family loyalist who had friends across political and corporate spectrum.
77-year-old Deora was India's longest serving petroleum minister -- completing exactly five years in office in a tenure that began in January 2006 and was spread between United Progressive Alliance-I and II.
During his political career spanning over four decades, he was the longest serving chief of Mumbai Regional Congress Committee which he helmed for 22 years.
A close confidant of former Prime Minister Rajiv Gandhi, Deora was a key party fund raiser who was on personal terms with most of India's well-known industrialists.
He was rewarded for his loyalty when he was surprise pick to replace Mani Shankar Aiyar as minister for petroleum and natural gas in January 2006 during Prime Minister Manmohan Singh's first term.
Deora was known to be pro-United State even during the Cold War when India was closely aligned with the erstwhile Soviet Union and hosted several leaders from the US during the 1980s.
He was a close family friend of late industrialist Dhirubhai Ambani and was regarded as uncle by Dhirubhai's children - Mukesh and Anil.
He will most be remembered for being at the centre of a bitter feud between two warring Ambani siblings over natural gas from Krishna Godavari basin in Bay of Bengal.
While the Anil Ambani Group accused him of helping Mukesh's Reliance Industries on pricing and allocation of gas and ran an unprecedented newspaper advertisement campaign, Deora was the one who ordered a Comptroller Auditor General audit of spending in the KG basin fields, a first scrutiny of private books of accounts by the official auditor.
Deora was retained in the oil ministry when UPA won a second term in 2009, but was moved to ministry of corporate affairs in January 2011 and finally dropped from the Cabinet later that year.
An economics graduate, he was Mayor of Mumbai from 1977 to 1978 and was later elected four times as member of Parliament for Mumbai South, a seat later held by his son, Milind, who is also a former MP and ex-Union minister.
The veteran Congressman was also Mumbai Regional Congress Committee chief for 22 years before he quit the post in 2003.
Deora joined the Union cabinet in 2006, shortly before he turned 70 and led oil diplomacy in Myanmar, Algeria and Egypt. He also hosted the first India-Africa Hydrocarbon Conference and Exhibition in November 2007.
The Congress leader began his political career in 1968-78 as Municipal councilor of Mumbai. During 1982-85, he was Member, Maharashtra legislative council. He was also former director, Life Insurance Corporation.
In 1985, he became member, Eighth Lok Sabha and won three consecutive terms.
In 1995-96, Deora became the international president, Parliamentarians for Global Action, New York. In 1998, he won his fourth Lok Sabha poll.
He was currently serving his third term in the Upper House.
Congress President Sonia Gandhi expressed deep grief over the death of former Union Minister Murli Deora, whom she hailed as "symbol of Congress party in Mumbai", a reference to his over two-decade-long innings as party chief in the megapolis.
A dedicated political worker, he upheld the Congress Party through its thick and thin, she said in a condolence message.
Gandhi also hailed as "remarkable" Deora's contribution to the nation as a parliamentarian and a minister.
"The entire Congress party stands with the members of Shri Deora's family in this hour of grief," said Gandhi who along with party Vice President Rahul Gandhi will be going to Mumbai to convey her condolences.
A Gandhi family loyalist and a close confidant of former Prime Minister Rajiv Gandhi, Deora was a key party fund raiser who was on personal terms with most of India's well-known industrialists.
Image: Murli Deora, 77, was India's longest serving petroleum minister. Photograph: Mian Khursheed/Reuters