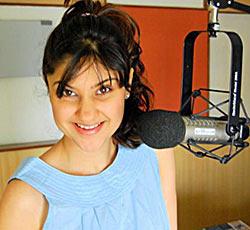 MPs don't want radio jockeys to imitate them. We decided to ask a radio jockey for her reaction.
Our MPs are a serious lot.
They, clearly, are in Parliament for serious business that sometimes includes shouting, rushing to the well of the House, taking a quick nap...
So when someone decides to have a laugh at their conduct, they get angry.
Just like Samajwadi Party MP Jaya Bachchan did in the Rajya Sabha on the eve of Independence Day.
The former actress -- who was not particularly known for her comedic sense in her heyday back in the 1970s -- told the House of the Elders that radio jockeys at private FM channels should not mock members of Parliament.
This 'mimicking' and 'making fun' of the 'country's leaders' was not right, Jaya Bachchan declared, and RJs should ensure their 'language and content is not objectionable.'
Information and Broadcasting Minister Prakash Javadekar, who agreed with her, then declared that the government is considering taking action against radio jockeys who mock politicians!
Prasanna D Zore/Rediff.com asked the bubbly Archana L Pania, a popular radio jockey in Mumbai, for her reaction to the hullaballoo.
Did you know the government is considering action against RJs who mimic MPs?
It's quite bizarre that you cannot take a lighter vein when you have to reflect upon life.
We just look like losers because, if you can't have a good laugh at yourself, you're depriving people of a lighter look at the supposedly serious issues of governance of this country.
Today's youth like a dash of humour. I won't say it's the only way youth takes notice... but this is why certain videos go viral and why our fun contests work or why people enjoy RJs mimicking or making fun of people... it's just a reflection of society.
They (the MPs) are missing out on an opportunity. I think they are the losers, not us. We have lots of things to play around with.
Any members of Parliament you enjoy mimicking?
The Speaker... baith jaiye (which is what then Lok Sabha Speaker Meira Kumar said in her little girl voice when MPs didn't maintain decorum during her tenure) is toh legendary hamare liye.
Modiji (Prime Minister Narendra Modi) too... His speeches are popular and we imitate the kind of pauses he takes, his speaking style.
But if there is one person you cannot miss, it's Laluji (former railways minister Lalu Prasad Yadav). Whenever he speaks in Parliament or at a public event, you want to know what he said and did.
Do you think this is going to discourage RJs?
I'm waiting to see what happens.
Will you be the rebel?
I am a good mimic. I can't deny that. But I don't think I want to walk that path. There are enough problems in the country. If politicians feel RJs are distracting them by mimicking them, I'd rather stay away from it. Tum kaam karlo bhaiyya, aur kuch nahi chahiye (You do your work, we don't want anything else).
I would definitely want to see what good karnamas (work) they do because now they are on my radar (laughs). We will now definitely keep a sharp eye on them now that they have decided to keep a sharp eye on us.
Do you think India, as a nation, does not like to laugh at itself?
Arre yaar, seriously... We have a very poor sense of humour. I feel really proud of nations like England and the US. They are able to poke fun at anything.
They seem to have a larger heart and acceptance of the fact that if something good is being said then there can be a funny side to it to.
Have there been incidents of elected representatives having a problem with an RJ mimicking someone?
No. In my 12 years of being on the radio, this has never been an issue.
Sometimes, film stars do because hum inki zyaada khilli udate hain (we make fun of them constantly).
Lalu Prasad Yadav has a very good sense of humour. He knows how to take a joke at himself. He's okay with people mimicking him and he would probably smile at it. You can't get bigger than that.
You know how they say imitation is the best form of flattery. I don't know why they (the MPs) would not want that kind of flattery. Anybody who is popular will have his caricature in the newspaper some time, in a magazine.
If you are running away from it and you want people to be all serious about you, then you are definitely demotivating the nation to be a happier place to be in.