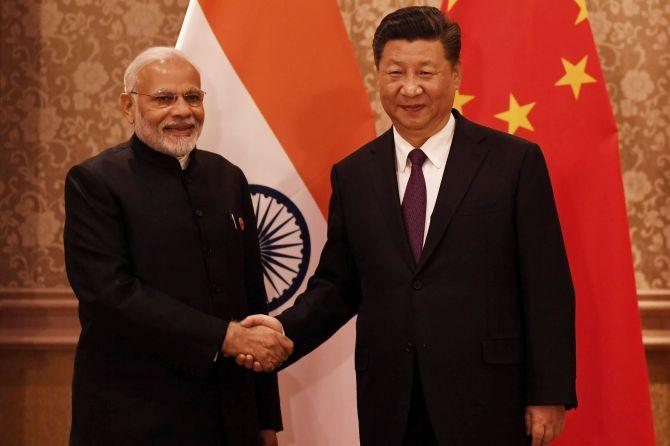 Prime Minister Narendra Modi and Chinese President Xi Jinping have agreed that the Chinese defence minister will visit India next month as part of the efforts to maintain the 'momentum' generated by their recent meetings.
Modi, who is in Johannesburg to attend the BRICS (Brazil, Russia, India, China, South Africa) Summit, met Xi for the third time in nearly three months on Thursday evening after their two-day informal summit in the Chinese city of Wuhan in late April and a bilateral meeting on the sidelines of the Shanghai Cooperation Organisation Summit in Qingdao, China in June.
"It is important to maintain this momentum and for this we should, at our level, regularly review our relationship and give proper instructions whenever required," Modi told Xi in his opening remarks.
He told the Chinese leader that their recent meetings have given a new strength to bilateral ties and also provided new opportunities for cooperation.
President Xi said that the Chinese side is ready to work with the Indian side to carry forward the fresh impetus of bilateral relations since their informal meeting in Wuhan, China's state-run Xinhua news agency reported.
He called on the two sides to strengthen strategic communication, increase mutual trust, promote practical cooperation, as well as cultural and people-to-people exchanges, strengthen dialogue and properly manage differences, it said.
At Wuhan, Modi and Xi had decided to issue 'strategic guidance' to their militaries to strengthen communications to build trust and understanding, a move aimed at avoiding a Doklam-like situation in the future.
Modi said the Johannesburg meeting has provided one more opportunity to them to strengthen their closer developmental partnership.
Briefing the reporters about the meeting, Foreign Secretary Vijay Gokhale said the two leaders reaffirmed their readiness to give the necessary direction to their militaries to enhance communication between them and to maintain peace and tranquility in the border areas.
"They were satisfied with the efforts being made by the officials of the two sides to strengthen bilateral engagements and to implement some of the understandings and decisions that the two leaders had reached at Wuhan," he said.
Prime Minister Modi also expressed his willingness to send National Security Adviser Ajit Doval to China this year for the Special Representative-level boundary talks, he said.
Gokhale said the two sides had agreed at Qingdao that the Chinese ministers for defence and public security would travel to India this year.
"It was decided that these two visits would take place in August and October, respectively," the foreign secretary added.
In Beijing, Chinese Defence Ministry spokesman Senior Colonel Ren Guoqiang confirmed that State Councilor and Defense Minister General Wei Fenghe 'plans to pay a friendly official visit to India' at the invitation of his Indian counterpart Nirmala Sitharaman.
"We have provided a top-level design for bilateral ties in a macroscopic perspective and a timely fashion, which is conducive to mobilising the positive elements of all sectors in both countries and uniting the wills of the 2.6 billion people of the two countries, so as to form a force that would push bilateral ties into the future," Xi told Modi.
Gokhale said both the leaders also remarked that in the last few months mutual trust has increased between the two sides.
President Xi once again conveyed to Prime Minister Modi that he is very happy to accept his invitation to visit India for an informal summit, the second one, next year and both sides also agreed to follow up on a number of issues, the foreign secretary added.
They also agreed that the high-level people-to-people mechanism which would be established between the two sides will also meet this year, he said.
One of the important issues which Prime Minister Modi raised with President Xi at his previous meetings is of how the two sides can enhance Indian exports to China particularly agricultural exports.
"It has been decided that an Indian trade delegation will be travelling to China on August 1 and 2. Among the issues they will discuss are exports of soya, sugar and non-basmati rice and they will also look at the possible import of urea from China," he said.
Prime Minister Modi also mentioned about the pharma sector and cited a Chinese movie titled 'Dying to Survive' which is based loosely on the role that the Indian cancer drugs play in saving the life of the main character of the movie, Gokhale said, adding that it was decided that an Indian pharmaceutical delegation will visit Shanghai, China on August 21 and 22 for talks.
Xi said that as major emerging market economies, as well as vindicators and contributors of the current international order, China and India should strengthen bilateral cooperation, while exploring a new model for regional cooperation, upholding multilateralism, championing economic globalization and striving for a more just and rational international order, Xinhua reported.
President Xi and Prime Minister Modi will meet again at the margins of the G20 summit in Argentina at the end of this year.
Investment in digital infrastructure crucial for emerging economies: PM
Meanwhile, Modi on Friday said the digital revolution has offered new opportunities to the members of the BRICS grouping and other emerging economies and it is essential to invest in artificial intelligence and big data analytics to reap the benefits.
Addressing the BRICS Outreach Session in Johannesburg, Modi called for more investment in the digital infrastructure and skill development in the area of digitisation.
"Today we are once again at the historic turning point. Thanks to digital revolution, new opportunities are emerging for us and that is the reason why it is necessary that we be completely ready for the changes that will come out through AI and big data analytics," he said.
Emphasising on India's historic and deep links with Africa, the prime minister said his government has accorded the highest priority towards maintaining peace, freedom and development in Africa.
India's ties with Africa are time-tested and the Government of India has deepened its engagement with the continent he said.
"Economic and development cooperation between India and Africa have touched new heights," Modi said at the meeting, also attended by Xi, Russian President Vladimir Putin, South African President Cyril Ramaphosa and Brazilian President Michel Temer.
The prime minister said in the last four years, more the 100 bilateral talks and visits at the level of head of states and government have taken place which has taken bilateral cooperation and economic ties to a new level.
He said 118 lines of credit worth $11 billion have been extended to over 40 African countries.
He said that India welcomes the effort for regional economic integration by the countries in Africa.
He said free trade and commerce in the last three decades has helped hundreds of millions people come out of poverty.
To take the benefits of globalisation to them is the most important task, he said.
Highlighting the challenges of globalisation, he said that inclusive development must remain at the core of all efforts.
He said after the financial crisis of 2008, the threats of protectionism are hovering over this fundamental aspect of the globalisation.
"The most profound effect of decrease in growth rate has been felt by countries such us ours who could not gain from the industrial progress made during the colonial time," the prime minister said.
He said India will continue to share its experiences and learning under the South-South co-operation.
He said that while addressing Uganda's Parliament this week he had outlined the 10 principles for India's engagement with African nations.
This 10 principles, he said, formulated as per the needs of Africa are the guidelines for the development and strengthening of India's ties with the continent.
He also noted that African students come to India to study and also receive Indian scholarships.