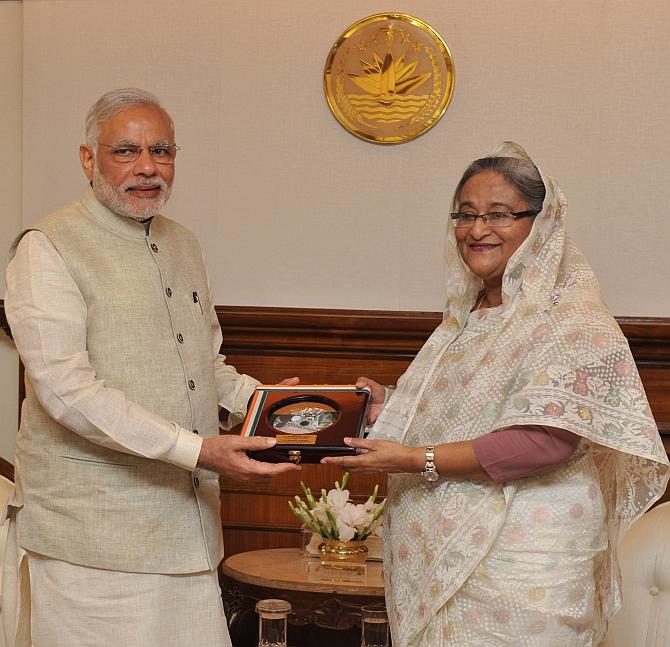 No meeting or interaction has been requested or scheduled with Pakistani Prime Minister Shahid Khaqan Abbasi so far.
Prime Minister Narendra Modi is scheduled to hold bilateral meetings, including with his counterparts from Bangladesh, Australia and the President of Seychelles, on the sidelines of the multilateral Commonwealth Heads of Government Meeting (CHOGM) in London on Thursday.
This would be the first interaction of Modi with Sheikh Hasina since the Bangladeshi prime minister's visit to New Delhi last year.
However, officials have indicated that no meeting or interaction has been requested or scheduled with Pakistani Prime Minister Shahid Khaqan Abbasi so far.
Some of the other world leaders expected to have one-on-one deliberations with the Indian prime minister during the CHOGM include Australian Prime Minister Malcolm Turnbull, South African President Cyril Ramaphosa, Cyprus President Nicos Anastasiades and Jamaican Prime Minister Andrew Michael Holness.
Gambian President Adama Barrow, Ugandan President Yoweri Museveni and the President of Seychelles Danny Faure are also on the list.
The bilateral talks between Faure and Modi assumes significance after Seychelles ordered an inquiry into the leak of a highly classified agreement signed with India to develop infrastructure on Assumption Island, which lies southwest of the mainland of Mahe.
The opposition in Seychelles has decided not to ratify the pact because of Assumption's relative proximity to Aldabra atoll, a UNESCO World Heritage Site that is home to the world's largest population of giant tortoises.
Modi is likely to interact with Gaston Browne, Prime Minister of Antigua & Barbua, Mauritian Prime Minister Pravind Kumar Jugnauth and Keith C Rowley, Prime Minister of Trinidad & Tobago.
"The summit offers ample opportunity for leaders to interact in meeting rooms for bilateral discussions on matters of mutual interest as well as cooperation over Commonwealth issues," a senior official said.
The bilateral talks are scheduled as the formal heads of government meeting gets underway in London today following the formal launch by Queen Elizabeth II at Buckingham Palace.
"Over many years you have been the Commonwealth's most steadfast and fervent champion. You have been true to the deepest values of the Commonwealth?… we commit to sustaining this Commonwealth, which you have so carefully nurtured," British Prime Minister Theresa May said in reference to the Queen at her opening address.
The 91-year-old monarch, as the Head of the Commonwealth, will host a dinner for all 53 heads of government at the palace later in the evening on Thursday.
"I had not been able to visit the last summit and this time, it was an honour that Prince Charles came personally to India last year to invite me for it. The Queen herself wrote a personal letter to me, a matter of great pride for India," Modi said during his Bharat Ki Baat, Sabke Saath diaspora event in London on Wednesday.
An Indian Prime Minister is attending CHOGM, held every two years, after a hiatus of nearly a decade, having skipped CHOGMs in Perth, Colombo and Malta since 2009. The Indian government has said that this symbolises the country's wider efforts to step up its role across global forums.
"In the multilateral space for us, the Commonwealth is a very unique multilateral grouping. It comprises of a very diverse set of 53 countries ranging from small island developing states to some of the most advanced industrialised countries of the world… It has a very strong international voice particularly on developing country issues," an MEA spokesperson said.
The executive session of the summit today will be followed by a retreat at Windsor Castle tomorrow, when the leaders get together in an informal setting without any pre-set agenda or being accompanied by their top advisers.
As Britain takes over the two-year Chair-in-Office of the Commonwealth at the heads of government deliberations, it marks the last such summit to be hosted by the Queen. With the monarch having ruled out long-haul travel, she is unlikely to travel to any future CHOGMs to be hosted by other member-states. This has triggered widespread speculation over whether her son and heir, Prince Charles, would be anointed as the next Head of the organisation. As the position is not hereditary, a decision on succession is expected during the informal chats at the retreat.
At the end of the retreat, Modi will head back to India after a brief stop for his meeting with German Chancellor Angela Merkel in Berlin. PTI AK AMS AKJ AMS