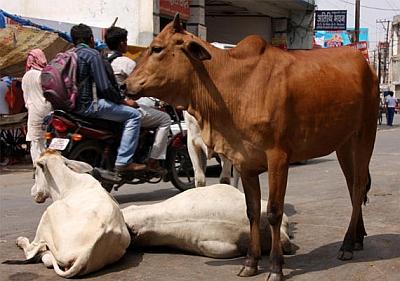 Ever since the BJP-led National Democratic Alliance government came to power in May last year, hundreds of applications have been pouring every day against cow slaughter, demanding a complete ban on the killing.

In the last eight months, the government has received over a lakh representations from various organisations from across the country, creating administrative problems for the nodal agriculture ministry on how to handle the voluminous communication on the subject, the ministry sources said.

Most of these representations, which were sent to the offices of the President and prime minister and also Members of Parliament, were forwarded to the department of animal husbandry under the agriculture ministry for necessary action.

Sources said that the common demand made in these applications is for "a complete ban on cow slaughter".

Other demands include stopping sacrifice of millions of healthy cows during religious festivals and checking the smuggling of cattle to neighbouring countries, the sources added.

Some organisations have also demanded that the government declare cow as the national animal, cancel licences given to slaughter houses, curb cross-breeding
of indigenous cattle with exotic ones besides calling for the preservation and conservation of cattle in the country.
The agriculture ministry is in the process of finalising an "action taken report" on this matter, which will be submitted to the prime minister's office soon.
Cow slaughter is a state subject. At present, there is no ban on cow slaughter in Arunachal Pradesh, Kerala, Meghalaya, Mizoram, Nagaland and Lakshadweep.
As representations pour in by the sackful every day, the staff-shortage hit agriculture ministry is struggling to handle these letters and filing them. It is also facing a shortage of space in keeping these letters safely.
"Some letters are written by different branch offices of the same organisation. These letters are required to be kept safely for at least three months as per the Right to Information Act," the sources added.
In the UPA regime, the ministry was handling hardly 15-20 applications a month on this issue, but the numbers have increased drastically after the NDA government came to power, the sources added.