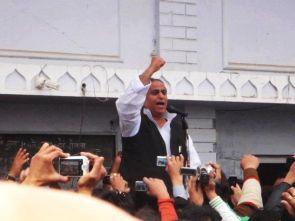 The Samajwadi Party has termed the appointment of Narendra Modi as the chairman of BJP's campaign Committee "unfortunate" saying that he was responsible for the 2002 Godhra riots.
"Narendra Modi happens to be the person responsible for 'janta ke katle aam' (massacre of people). Hence his crowning as the chairman of BJP's campaigning committee is unfortunate," Uttar Pradesh Parliamentary Affairs Minister Azam Khan said while talking to reporters on Sunday.
"How can the person accused of shameful and cruel elimination of innocent inhabitants dare to declare that they (BJP) were prepared to take the reins of the country in their hands?" Khan asked.
Echoing his party's sentiments, Khan said that Modi's appointment would not affect the prospects of SP in the coming Lok Sabha elections.
"The BJP as well as the Congress had been rejected by the masses of Uttar Pradesh and they are going to meet the same fate in 2014 elections," he added.
Taking a dig at former UP Chief Minister Mayawati, the SP leader said, "all sections of society are satisfied in Uttar Pradesh and are supporting the welfare schemes of the state government. Whereas, the Mayawati government adorned images of stone and ignored living beings."
Khan said that in the present political scenario, third front "was the only option to take the country on the right track."