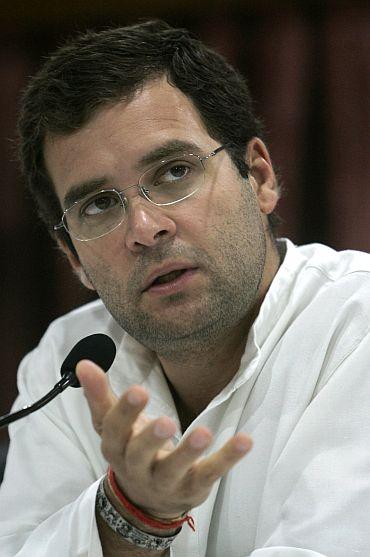 Rahul Gandhi on Friday took a swipe at Prime Minister Narendra Modi's 'Swachh Bharat Abhiyan', saying he had promised employment to people, but instead handed them broomsticks.
"Modi had said (in his Lok Sabha campaign) I alone will generate employment... I alone will build factories, roads and airports. But after forming government, he said you people take the broom, I am going to Australia," Gandhi told an election meeting in Jharkhand's West Singhbhum district.
Describing Modi as the "prime minister of ten industrialists" without elaborating, Gandhi said, "We want a development-oriented government rather than a government of moppers."
"The Congress party intended to empower people with laws like the Right to Information, the Mahatma Gandhi National Rural Employment Guarantee Act and the Land Acquisition Act," he said and expressed apprehension on the Bharatiya Janata Party government's intention to change it to benefit the capitalists.
Asking the people whether Modi could set up factories, roads and airports 'alone', he said Modi wanted to grab power and run the country without taking along the masses.
"The difference between the Congress and the BJP is that we want to take along people from all sections of the society, while he (Modi) is trying to grab power and govern on his own," Gandhi said.
The All India Congress Committee vice-president also claimed it was the Congress which always worked in the interest of tribal population.
Earlier, he interacted with party workers at the airport in Jamshedpur.
Gandhi gave party workers a patient hearing and met Jamshedpur West sitting MLA and party candidate Banna Gupta who is also the Jharkhand agriculture minister.