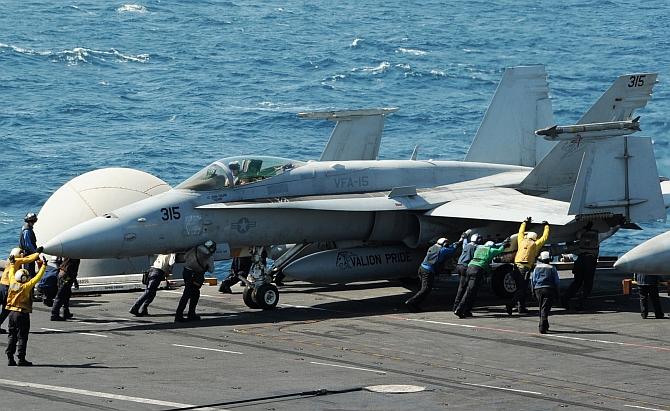 Barack Obama is expected to ask for India's support to create a global coalition against ISIS when he meets Narendra Modi on Monday. Sheela Bhatt/Rediff.com reports from New York.
Prime Minister Narendra Modi will NOT have much of elbow room to participate overtly and actively in the just-declared fresh war against the Islamic State by the United States, which has been joined by five Arab nations, hinted a top level source in the ministry of external affairs.
When asked specifically by Rediff.com, the diplomat said, "Will India continue the tradition of joining international military action only and strictly under the umbrella of the United Nations or will Modi redefine India's participation in such an international mission?"
"We have to remember we have 39 Indians hostage in Mosul in Iraq," the diplomat added.
Modi will attend a private dinner hosted by President Barack Obama and his wife Michelle Obama at the White House on Monday, September 29. Here, in a rather relaxed ambience, some serious issues will be on the table where both leaders will try to work out the scope of the ideas that can be jointly worked upon.
Defence ties, energy cooperation, space, education and health are subjects where lots can be done, but the most important issue requiring immediate interaction will be India's participatory role in America's war against Islamic State. This will be the issue Modi will have to take a call on.
For Obama, the support of the five Arab nations in air strikes against ISlamic State terrorists militants is a diplomatic victory. Under his leadership the US is reluctantly entering a military conflict in the Middle East, which was unthinkable when he was first elected in 2008.
The US is trying to build an international coalition to take on Islamic State in Iraq and Syria. Bahrain, Qatar, Saudi Arabia, Jordan and the United Arab Emirates have joined the fifht against the murderous terrorists. India's role is likely to be limited, as a large number of Indians are based in and around the conflict zones.
India will not be a party to the language of war when it is negotiating the release of 39 Indians held hostage by Islamic State in Mosul.
Modi's known views on terrorism and in spite of National Security advisor Ajit Doval's determined vision to combat terrorism, the duo will be constrained in Washington and will be forced to tread carefully in committing India to fight Islamic State.
Image: A US Hornet gets ready to take on Islamic State terrorists. Photograph: Reuters