'I hope the prime minister starts telling those abusers to stop abusing... Because when he remains silent, these people get more muscle,' journalist Rajdeep Sardesai told Chaya Babu/Rediff.com soon after he was heckled and pushed around in New York on Sunday.
Crowds swarmed the sidewalk on New York's 7th Avenue outside Madison Square Garden on September 28 under the unusually warm Sunday autumn sun.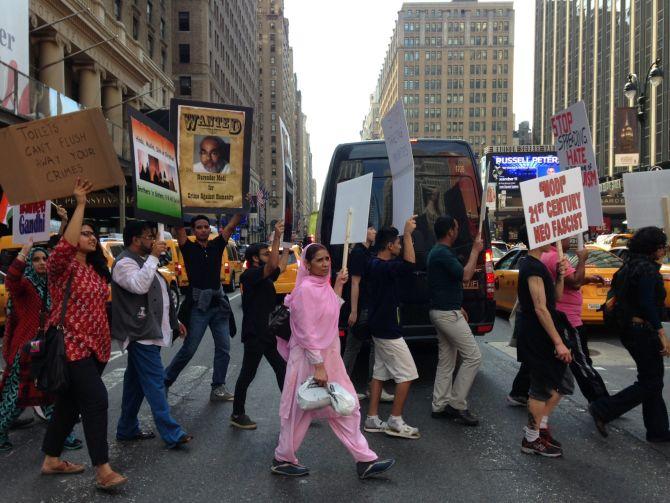 Those who did not have tickets to get in, but hoped to see and show their support for Prime Minister Narendra Modi by gathering outside the venue circled around Headlines Today journalist Rajdeep Sardesai as he interviewed Prachi Patankar from the South Asia Solidarity Initiative, one of the organisers of the rally taking place across the street.
The throng swelled and shoved, arms reaching in with camera phones ready, shouts in Hindi and thickly-accented English demanding to push through to get closer to the centre.
Patankar had her safety net -- two young desi activists in the wings, nestled among the all-male mob -- ready to pull her out in case something went down.
"If this is the Diaspora, we have a lot of work to do," said Janani Bala, one of the twenty-something pair keeping their eyes on Patankar.
Moments before, Sardesai had been in an altercation with some of the men, presumably for raising critical questions about Modi in his reporting on the scene.
"I take it as par for the course as a journalist," Sardesai said. "There are all cheerleaders here, right? Cheerleaders don't want to see anyone even asking questions. But it's okay; it's part of the job. And there are plenty of very nice people here -- a few abusers should not be able to spoil the whole thing."
"Most Indians are decent, honourable people, but you will get a few abusers, and I hope the prime minister of India starts telling those abusers to stop abusing," he added.
"That's my problem with the prime minister sometimes; the prime minister needs to tell those who spread hate, 'Stop spreading hate'," said Sardesai, "Because when he remains silent, these people get more muscle."
Between coach buses and reams of yellow taxis, a large and lively pack of people with banners and signs was visible on the opposite side of the wide avenue. Approaching them, their numbers stacked heavily toward the front of a narrow area blocked off on West 32nd Street and confined between lined up police barricades, their chants grew audible.
It was not an insignificant protest -- hundreds of Indians of varied backgrounds took their places inside the blue wooden barricades.
The picture closer to Madison Square Garden, which had a full house and tickets sold out in advance, showed a warm and welcoming sentiment toward India's new leader; just a few car lanes away revealed another story.
"They will have us believe," Patankar told Rediff.com "that the hoopla and the celebration are this thing where all kinds of Indian Americans are supporting (Modi), but this is not true, and this is why we're here -- to make sure that a voice of opposition is heard."
"People are saying things like, 'Why are you bringing up the past? Why in this euphoria are you trying to dampen the mood?'" she explained. "These are the comments we've been getting even from reporters. But for us it's important that whatever he did in Gujarat.. we want to make sure that that is not forgotten and that the victims' voices and their plight are heard."
"And we believe that if we let somebody like this get away, that doesn't look good for the future of India. It means an India that is based on the Hindu rashtra, rather than what India was founded on really: A secular place where Muslims and Hindus and Buddhists and Christians and all kinds of people live in harmony."
"And I fear that's not what we'll face if Modi continues to be in power and is allowed to continue his policies." she said
The 2002 Gujarat riots were what echoed most loudly through the ranks on 32nd Street, comprising activists, students, academics, and more.
Jinee Lokaneeta, who teaches political science at Drew University in New Jersey, said she would never forget the sight of children playing in burial grounds at the relief camps in Gujarat when she went there after the riots.
"I do feel, given that through this time there has been no accountability, really angry and disappointed," Lokaneeta said. "And given that India does have strong democratic institutions that can ensure accountability and yet there's a way in which we have a history of forgetting. And we should not forget that being a part of a democratic system also means that while you celebrate whatever's good about your country, you also have to always ensure that, when there are wrongs done, we're able to get justice for the people."
Sonia Joseph, another organiser of the protests, emphasised the importance of disrupting a singular image of what Indian Americans feel about Modi.
"One of the things that we wanted to do was offer a counter-narrative to this idea that Indian Americans are Hindu, upper caste, and forming a Hindutva ideology," she said.
"We believe that India is a diverse country and we are here representing equality. It's shameful that so many from the Diaspora are supporting him."
Images: Protests against Prime Minister Narendra Modi in and around Madison Square Garden on Sunday, September 28. Photographs: Chaya Babu/Rediff.com
Please click here for full coverage on Prime Minister Modi's US visit.