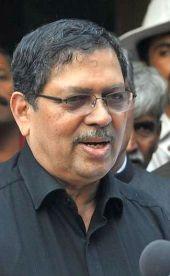 Former Karnataka Lokayukta Justice (retd) Santosh Hegde on Sunday opposed granting financial assistance to people affected by closure of mining in Goa and expressed doubts over the state government's willingness to implement recommendations of Justice M B Shah Commission.
Hegde even invoked Underworld to support his argument that those indulged in illegal mining business can not claim compensation.
"We can not ask illegalities to be perpetrated because some people are going to remain hungry...Frankly speaking (this is like) many people losing their jobs if Dawood Ibrahim were to be arrested", he quipped.
Hegde was addressing reporters on the sidelines of a seminar on 'Global Business and Human Rights' organised by Union Internationale des Avocats, a UN-recognised NGO.
"People involved in illegal mining can not be compensated on the basis that they have lost their livelihood due to closure of business", he observed.
Responding to a query on Manohar Parrikar-led BJP government offering compensation to those who lost jobs due to interim ban on mining in the state following the Supreme Court order last year, Hegde said he was totally against the government's action.
"I am totally against it. People who are indulged in illegal activities which amount to crime, can not be compensated just because the future of their activity is taken away", Hegde said.
"It might be a livelihood in reality but is against law", the former Karnataka Lokayukta said.
Goa government is offering financial aid to those who have lost business due to closure of mining, besides a monthly compensation for truckers, rendered jobless after dredging was put in abeyance.
The compensation ranges between Rs 4,000 to Rs 12,000 depending on the type of beneficiary.
Hegde also raised doubts over Goa government's commitment in implementing the recommendations of the Centre-appointed Justice M B Shah Commission which had blown the lid off the widespread illegal mining in Goa.
The former Supreme Court judge said that Goa government's action of instituting a committee headed by former High Court Judge R M Khandeparkar was unnecessary.
"Here is a commission which makes recommendations (M B Shah commission), then you have another panel formed to say whether action should be taken or not (Khandeparkar Committee) and then there will be another commission to study the recommendations of that (Khandeparkar) commission.
The general idea is that government does not want to implement the recommendations", Hegde said.
If somebody feels victimised because of the recommendations, let him go to the court of law, he said.
Hegde proposed that ill-gotten money pocketed by mine owners should be recovered from them and utilised to redevelop the land damaged due to the illegal activity.