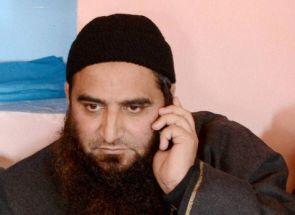 'There were 27 cases against me. I obtained bail in all the cases. The judiciary has released me,' the freed Kashmiri separatist tells A Ganesh Nadar/Rediff.com
The release of Kashmiri separatist leader Masarat Alam Bhat has kicked up a nation-wide furore with the issue rocking Parliament on Monday, March 9.
Though he was released after the People's Democratic Party-Bharatiya Janata Party government took charge in Jammu and Kashmir, it is now being reported that the decision to free Bhat was taken during governor's rule in the state.
"I have been in jail for four-and-a-half years. I have been released through the legal process," Bhat told Rediff.com over the telephone.
"There were 27 cases against me. I obtained bail in all the cases. The judiciary has released me. I don't know why there is so much hue and cry over my release," he said.
"I have one order from the Supreme Court and another order from the high court. The rest of the orders I have obtained from local courts," Bhat added.
Asked about his future plans, Bhat said, "My party, the Muslim League, is in the forum where Syed Ali Shah Geelanisaab is also there. The forum makes all decisions. What the forum decides, I will do."
Geelani heads the separatist Tehreek-e-Hurriyat party.
What does Bhat propose to do about the cases against him? "Trials are on in many of the cases. I will face the cases legally," he says. "I have faith in the judiciary."
Bhat says he spent his time in jail reading and doing a little exercise. "Day follows night and the years passed by," he said.
Asked if the PDP-BJP government could change life for the better in the Kashmir valley, he was cryptic. "A change of government doesn't mean anything to us, it is all the same."
What did he feel about the 2014 assembly election in Jammu and Kashmir which attracted a high turnout of voters in the valley?
"We have to discuss why the people participated in the elections," Bhat, who was imprisoned for leading the 2010 'stonethrowers' agitation which claimed over 200 lives, said. "Only after we discuss it, will I be able to say anything."