Mamata Banerjee was on Friday sworn in as the chief minister of West Bengal for the second consecutive time, heading a 42-member ministry.
Banerjee, 61, was administered oath of office and secrecy by state Governor Keshri Nath Tripathi at the sprawling Red Road.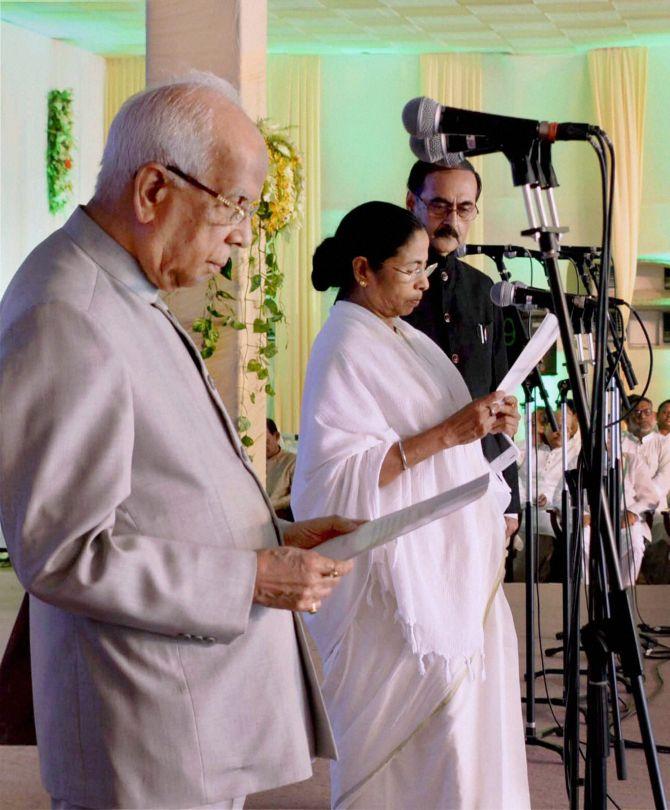 IMAGE: West Bengal Governor Keshari Nath Tripathy administers the oath of secrecy to West Bengal Chief Minister Mamata Banerjee during swearing-in ceremony in Kolkata. Photograph: PTI
Her ministry has 18 new faces.
The prominent Cabinet ministers who took oath along with Banerjee were Amit Mitra, Partha Chatterjee, Subrata Mukherjee, Sobhandeb Chattopadhyay, Abani Joardar, Firhad Hakim, Arup Roy, Gautam Deb, Sovan Chatterjee, Javed Khan, Abdur Rezzak Mollah, Suvendu Adhikari, Jyotipriya Mullick, Purnendu Bose, Rabindra Nath Ghosh, Bratya Basu, Santiram Mahato, Ashis Banerjee, Arup Biswas.
The ministers of state who were sworn in, included cricketer Lakshmi Ratan Shukla and singer Indranil Sen.
A galaxy of political leaders were present at the ceremony. Among them were Union Finance Minister Arun Jaitley, Uttar Pradesh Chief Minister Akhilesh Yadav, his Bihar counterpart Nitish Kumar, Rashtriya Janata Dal chief Lalu Prasad, National Conference leader Farooq Abdullah and Dravida Munnetra Kazhagam leader Kanimozhi.
The 18 new faces in the council of ministers are Suvendu Adhikari, Sobhandeb Chattopadhyay, Churamoni Mahato, Tapan Dasgupta, Asima Patra, Indranil Sen, Laxmi Ratan Shukla, Shyamal Santra, Golam Rabbani, Siddikullah Chowdhury, Abdur Rezzak Mollah, Jakir Hossain, James Kujur, Rabindra Nath Ghosh, Sandhyarani Tudu, Abani Joardar, Bachchu Hansda and Sovan Chatterjee, who is also the Mayor of Kolkata.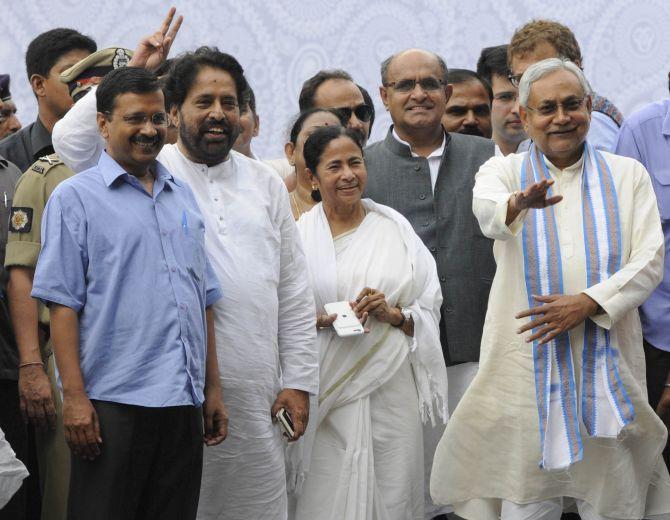 IMAGE: Mamata Banerjee with Bihar Chief Minister Nitish Kumar and Delhi Chief Minister Arvind Kejriwal, JD-U leader K C Tyagi and other TMC leaders after being sworn in on Friday. Photograph: Abhiroop Dey Sarkar
The Trinamool Congress has won 211 out of the 294 seats in the West Bengal assembly.
Banerjee, who has virtually single-handedly steered her party to a resounding victory, has shored up her stature as a regional satrap but faces numerous challenges on the development front in her second stint.
The 61-year-old leader, fondly called 'didi' by her supporters, proved that she was not just a tough street fighter but a master strategist, as she successfully overcame the challenge posed by the Left-Congress combine and the Bharatiya Janata Party despite a shrill campaign against her.
A firebrand orator, she had formed the Trinamool Congress in 1998 after falling out with the Congress in West Bengal.
She coined the slogan, "Ma, Mati o Manush" (Mother, Land and People), before the 2014 Lok Sabha polls and played on the anti-incumbency factor after more than three decades of Left rule and the creeping disillusionment among several sections, like Muslims, to root out the Left in partnership with the Congress in 2011.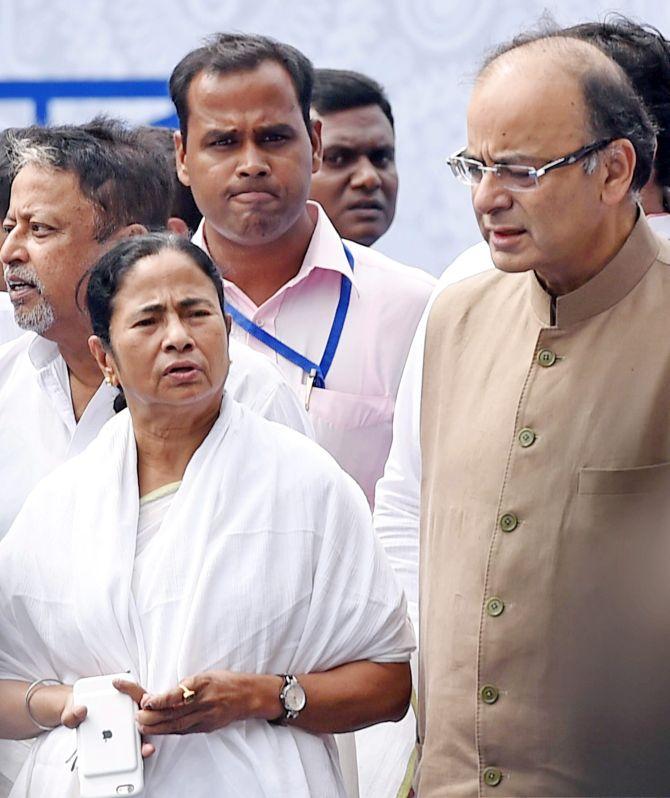 IMAGE: Mamata Banerjee with Finance Minister Arun Jaitley after her swearing-in ceremony in Kolkata. Photograph: PTI
Known for her humble lifestyle, Banerjee successfully sold a vision of development, cashing in on the deep resentment among the middle classes and unemployed youths, promising jobs and development.
But with West Bengal facing huge debt burden, Banerjee faces an uphill to steer the state's economy on the growth path and create an atmosphere to attract investments and spur industrial growth.
Her nondescript residence -- a single-storey house in a dingy lane close to the Kalighat temple -- and equally simple attire comprising cotton saris, 'jhola' bags and cheap hawai chappals, has endeared her to the masses.
A seven-time MP, Banerjee who took over as the chief minister in 2011 winning by-poll from Bhabanipur, steered the Trinamool Congress through victory in subsequent elections to panchayat, civic bodies and 2014 Lok Sabha.
She launched various development initiatives in the state but also faced criticism over Saradha chit fund and Narada scams.
Among various development schemes undertaken by her as the chief minister were 'Kanyashree' schemes for girls and 'Sabuj Sathi' under which cycles were distributed among the students, besides Rs 2 per kg rice for the 8 crore people in the state.
However, allegations of corruption dented the image of her party and the opposition made it a prime issue.
Born in a middle class family and daughter of a freedom fighter, Banerjee was a student of law and education. In her initial years in public life, she was mentored by veteran Congress leader Subrata Mukherjee -- now ironically a senior minister in her state cabinet.
It has not been an easy journey for Banerjee who turned her call for 'Parivartan' (change) in 2011 into a reality with the Congress, her ally then, throwing its full weight behind her.
Banerjee, baptized into politics as a student leader in Chhatra Parishad -- Congress' student wing in the 1970s, shot into limelight by pulling off a stunning victory over Communist Party of India-Marxist heavyweight and former Lok Sabha speaker Somnath Chatterjee in the 1984 Lok Sabha elections from Jadavpur constituency to become one of the youngest MPs.
She soon became a rallying point for the anti-Left Front forces which saw in her an uncompromising, incorruptible and credible fighter in comparison to other leaders of state Congress of nineties.
After parting ways, Banerjee had often dubbed the Congress as the 'B' team of the CPI-M.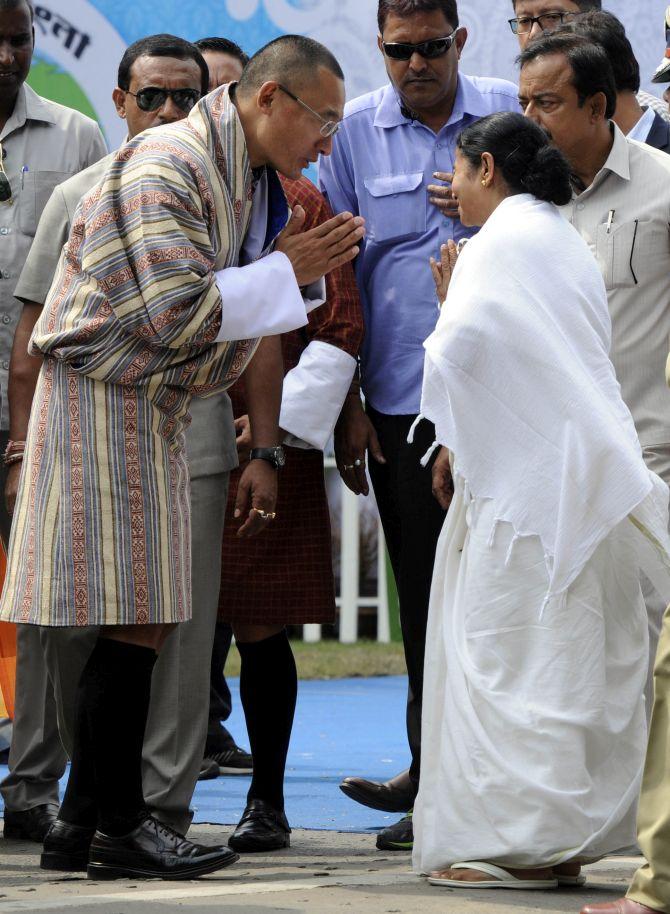 IMAGE: Mamata Banerjee greets Bhutan Prime Minister Tshering Tobgay at her swearing-in ceremony. Photograph: Abhiroop Dey Sarkar
Perfecting the art of the impossible, she first hogged the limelight by blocking Jayaprakash Narayan's convoy by throwing herself on the ground when he came to Kolkata to organise the masses against Indira Gandhi before the emergency.
Defeated in 1989, she was back in Lok Sabha in 1991 from Kolkata South and retained the seat in 1996, 1998,1999, 2004 and 2009.
Banerjee's first tryst with the corridors of power came in 1991 when she became Union minister of state for human resources development, youth affairs and sports and women and child development in the P V Narasimha Rao government.
Later on after forming the TMC, Banerjee aligned with the Atal Bihari Vajpayee-led National Democratic Alliance government and became the railway minister in 1999 and later the Union minister for coal and mines.
Banerjee resigned as the railway minister and left the NDA just ahead of the 2001 assembly polls in Bengal after the Tehelka scam and allied with the Congress for the assembly elections but could not dethrone the Marxist party.
In 2004 Lok Sabha election, Banerjee was the only one from the TMC to win.
In 2006 assembly polls in Bengal, her party managed to win just 30 seats in the 294-member assembly.
But Banerjee sprung back after leading the protest against farmland acquisitions in Singur and Nandigram which finally catapulted her to the seat of power in the state.