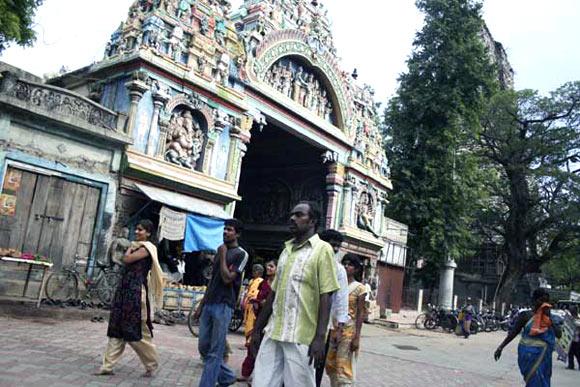 The East Raja Gopuram (tower) of the famous Sri Meenakshi Amman temple in Madurai dating back to 1216 AD suffered damage after lightning struck it on Thursday night, temple sources said on Friday.
According to the joint commissioner of the templeJayaraman, the 'Yaali Mukham' (the face of a mythical animal) atop the tower suffered damage in the lightning.
He said all the four towers of the temple had been provided with lightning arresters two years ago.
The 150-feet tower had some magnificent sculptures depicting rare stories from the Shiva Puranam. The horn of the Yaali had suffered damages. "It is not a big damage and can be rectified," he said.
The sculpture that fell off had been made of mortar and it would be fixed shortly, the official said.
Madurai city on Thursday experienced heavy rains accompanied by high-decibel thunder and lightning. Several areas of the city did not have power since last night as electricity board officials said the transformers had suffered major damage in the lightning.
Image: The Meenakshi Amman temple in Madurai ' Photograph: Dominic Xavier/Rediff.com.