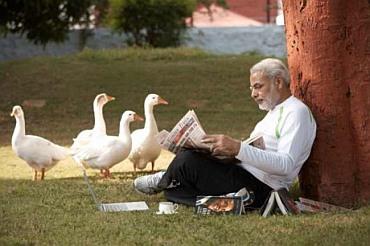 Saharanpur Congress candidate Imran Masood has stirred up a controversy by threatening to "chop Narendra Modi into pieces", inviting sharp criticism from the Bharatiya Janata Party which termed the remark as "inflammatory" and sought strict action by the Election Commission.
The video, which has gone viral, shows Masood attacking the BJP's prime ministerial candidate during an election rally in Saharanpur, saying he will "chop him into pieces".
As the matter came to light, a first information report has been registered against in violation of the Model Code of Conduct.
"The FIR has been registered against Masood at Deoband police station of Saharanpur," Inspector General of Police (Law and Order) Amrendra Sengar told reporters in Lucknow.
Sengar said the Congress nominee has been booked under section 125 (promoting enmity between classes in connection with election) of the Representation Of The People Act, and various Indian Penal Code sections.
"If Modi tries to make Uttar Pradesh into Gujarat, then we will chop him into tiny pieces...I am not scared of getting killed or attacking someone. I will fight against Modi. He thinks UP is Gujarat. Only four per cent Muslims are there in Gujarat while there are 42 per cent Muslims in UP," he said.
However, he later apologised for his remarks, saying "I should have been more cautious with my words" and that the same were said in the heat of electioneering.
Saharanpur district magistrate as well as District Election Officer Sandhya Tiwari said a CD with the recordings of Masood's statement had been received by them, which has been forwarded to the Election Commission.
Masood has been booked under Sections 153 A (promoting enmity between different groups), 295 A (deliberate and malicious acts, intended to outrage religious feelings or any class by insulting its religion or religious beliefs), 504 (intentional insult with intent to provoke breach of the peace), 506 (criminal intimidation) of the Indian Penal Code, district authorities said.
The BJP condemned Masood's remarks and asked the Election Commission to take strict note of it while also ensuring the safety and security of all its leaders including Modi. It will make an official complaint with the EC on Saturday and a high-level delegation of the party will meet top poll officials in Delhi seeking strong action against Masood's remarks that it says vitiates the atmosphere.

Image: BJP's PM hopeful Narendra Modi