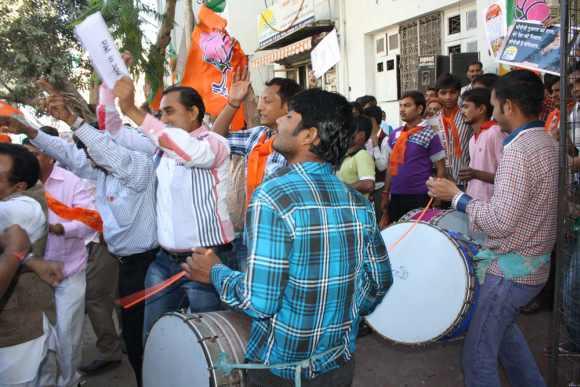 Buoyed by the party's strong showing in the general elections, the Bharatiya Janata Party on Friday said the people of the country have rejected 'dynastic' rule while rewarding hard work.
"The politics of inheritance, the politics of dynasty and the politics of entitlement is being punished by the people of India and the politics of hard work, politics of initiative, the politics of achievement and accomplishment is being rewarded and that's what they saw in the persona of Narendra Modi," said BJP national spokesperson Ravi Shankar Prasad.
Complete Coverage: Elections 2014
He said that going by the trends, BJP may get majority on its own in Lok Sabha. As per the latest trends, BJP-led National Democratic Alliance appears to be heading for a victory with the saffron party leading in 273 seats while its allies were ahead in over 50 seats. "If the performance in Gujarat, Chhattisgarh and Madhya Pradesh goes as a guide, let me assure that Modi's government is the government of entire country," Prasad said.