Flawed execution by SIMI operatives resulted in many bombs, including the one under Narendra Modi's stage during his Hunkar rally in Patna in October 2013, not going off.

Rediff.com's Vicky Nanjappa reports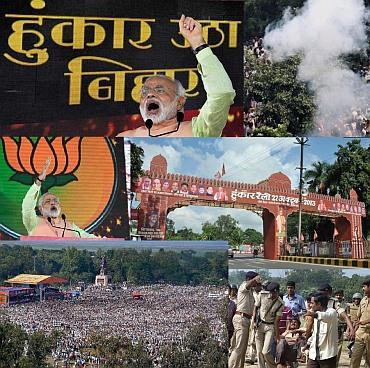 The National Investigation Agency has revealed that the October 2013 Patna blasts, targeting Bharatiya Janata Party's prime ministerial candidate Narendra Modi, were masterminded by the banned Students Islamic Movement of India and carried out with the logistic support given by the Indian Mujahideen.
Imtiaz Ansari, a top SIMI leader in Bihar, is alleged to have orchestrated the attack.

Ansari's name emerged during the interrogation of IM operative Tehsin Akhtar.

According to investigators, the SIMI used the logistics provided by the IM to target Modi's Hunkar rally at Patna.

While the primary target was Modi, the mission also sought to create a massive stampede by triggering off bombs in and around the venue where lakhs of people had gathered.
Imtiaz Ansari, who has been part of the SIMI for nearly a decade, subscribes to the Safdar Nagori version (radical) of the outfit.
Investigations found that Ansari and eight other SIMI members visited Patna over 5 times before the attack. They used Tehsin for logistics and surveyed the targets several times.

However, the execution of the plan was flawed. Many of the bombs, including the one the stage, failed to go off.

They had even thought of shooting Modi near his hotel, but had to cancel that plan owing to heavy security.
The NIA has filed a preliminary chargesheet. A supplementary chargesheet will be filed in the next couple of weeks based on the leads they gather during the investigation.