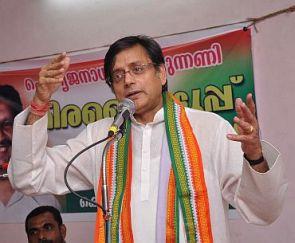 'I was with the UN for 29 years. I don't know whether I will have 29 years in politics, but I don't intend to end with just 5 years,' Shashi Tharoor tells Rediff.com's Shobha Warrier in a frank interview.
When Dr Shashi Tharoor became a candidate from the Thiruvananthapuram Lok Sabha constituency in 2009, nobody expected him to win with a margin of almost 100,000 votes.
His good looks, brilliance and appeal impressed voters tired of the same faces and same style of politics.
He has, to a large extent, tried to be a different politician by being accessible to people and utilising the MP's fund for many projects. Thiruvanathapuram was flooded with huge flex boards listing Dr Tharoor's accomplishments as an MP even before his candidature was announced.
But the ground realities are different this time. His wife Sunanda Pushkar's untimely death under mysterious circumstances has affected his image. There was talk that the party would not give him a ticket, but he has been named the Congress candidate from Thiruvananthapuram.
Interestingly, the candidate who is going to give Dr Tharoor a fight is the Bharatiya Janata Party's O Rajagopal, and not the Left Democratic Front candidate.
The trauma of recent weeks appeared to have affected the usually affable Tharoor who seemed edgy during this interview with Rediff.com's Shobha Warrier. The interview was conducted before Dr Tharoor filed a suit against a Communist politician for defamation.
Will it to be tough this time with the LDF posters calling you a stree ghatakan (murderer of a woman)?
It is deplorable. This is the most pathetic kind of politics. It is also a violation of the Model Code of Conduct.
What is more striking than the vilest form of political campaigning is confining themselves to identity politics.
We expected no less than that from the BJP, but to see the Communists trying to pick Christian, Nadar, etc is a new development.
This used to be a party of ideology and conviction. Now, they are hoping to get votes on the basis of identity.
I am going to run on performance. I hope the voters will see that, in the 21st century Indian democracy, you need an MP who will deliver and not an MP you can identify with.
Your personal life is being dragged into the public domain...
This is completely wrong and illegal. The election code of conduct is very clear. You are not to raise any issue from personal lives in the elections.
The only excuse they had then was I was not officially declared a candidate. Now I will register a complaint.
Don't you think such posters could have some kind of impact on voters?
That is obviously their hope. But most people who know me and have seen me know I am incapable of what they are accusing me of.
There is also this incontrovertible fact that nobody, not her (Ms Pushkar) son or father or brother, has complained on these lines.
What makes the CPM more qualified than her own blood relatives to accuse me of harming my own wife whom I loved so dearly?
When I interviewed O Rajagopal, he raised the issue of your connection with an alleged ISI agent...
I ask them to prove it. The lady in question, I met twice in my life.
Once in my office for an interview, and then at a dinner after a conference where 400 people were present.
So I don't know how I could have had any connection. She has also declared that she will sue anyone who accuses her of being an ISI (Inter-Services Intelligence) agent.
I don't know what this nonsense is all about. This is the cheapest form of character assassination by the BJP, especially by a gentleman who is older than my father.
He should be ashamed of it.
Do you blame the media for making a personal tragedy of yours a sensational story?
Of course. The media had gone to town about all this. This is greeted with great relief by those who have no answer to my development work and my performance as an MP.
Thanks to the media's irresponsibility and lack of fact checking, which seem to be embedded in the culture of the media of this country.
You mean only in this country?
Lack of fact checking, yes. In Western democracy, I don't think any media would have reported the kind of nonsense that was reported here.
But sensationalism is there all over the world...
Gutter journalists in the Western world may be responsible for sensationalism. It is only in India that the so-called mainstream media appears to be equally sensationalist.
Dr Subramanian Swamy is raising this issue on various platforms...
Most people I know have ceased to take (BJP leader) Dr Subramanian Swamy seriously.
I don't intend to dignify his vile and wild accusations with a response.
Boards publicising your development activities have come up in the city. But detractors say you couldn't do anything for the Vizhinjam port and also establish a high court bench here...
First of all, the high court issue is older than I am. It has been around since 1956. Rajagopal used to be a minister of state for law. What was he able to do? I am not criticising him for it.
The fact is, the high court can come only if the Chief Justice of India and the high court here agree to it. It is as simple as that.
What I have done effectively with three Chief Justices is to move the issue forward. I have made it very clear in my last campaign that this is a matter that involves the judiciary and you are not going to pursue the judiciary by having hunger strikes and demonstrations as the Opposition has been irresponsibly suggesting.
I said, leave it to me and as a result of my attempting through both political and diplomatic pressures, we now had for the first time hearings by the Chief Justices here in Trivandrum.
We also have a committee established by Chief Justice Manjula Chellur which has never been done in the 57 years of this problem. So there was some movement.
Who else has been able to deliver any movement?
Vizhinjam, by the way, I am astonished. In 25 years, nothing moved.
In my time, we managed to get the environment clearance and the Coastal Regulation Zone clearance. Now the tender has come out and companies are bidding.
How on earth is that I, who have done this one thing for Vizhinjam, can be accused of doing nothing for Vizhinjam?
Did you find it difficult to do things for the constituency, as it is said there were people from all parties blocking them?
There is always a challenge. The biggest example is I used all my international influence to bring Barcelona to Trivandrum.
I got their municipal corporation to pass a resolution and got their mayor to sign a draft agreement and forward it to the mayor here.
The mayor here refused to discuss it.
So the petty politics of the Left spurned an offer that would have cost Trivandrum nothing.
It would have brought us expertise, football coaching, advice on sports, sanitation and many other areas essential for the city from a city just like ours, but five times the size and it had a budget for international cooperation.
To spurn that is an act of breathtaking petty politics.
This only happens in Kerala. The city's interest is secondary to the interests of the ruling party of the city.
There is always opposition for the sake of opposition. We saw it in Parliament too in the last five years. It is a great shame.
National interest should transcend politics.
If we ever find ourselves in the Opposition, we will conduct ourselves in greater responsibility than the Opposition has shown so far.
Of course, we intend to be in the government again and not in Opposition.
All the political surveys and opinion polls paint a different picture. The UPA is seen as very corrupt...
I feel it is very unfair. Corruption is sadly endemic in our society. What about the scams of the Kargil coffins, Tehelka sting, etc?
Scams have been there in the previous government too, but at least during our time, the CAG (Comptroller and Auditor General) was allowed to do its work.
Though corruption has always been there, the public perception is that it was there only during our government.
To pin it to one party is unfair.
You wrote The Great Indian Novel. Why did you decide to join the Congress?
That was a different era. I was contesting the elections of 2009 and not the elections of 1977!
In the elections of 1977, I would not have voted for the party that imposed the Emergency.
Today I certainly vote for and stand for the UPA and its incredibly strong record of transforming India.
You spoke about the development work you did in your constituency and what the UPA did for the country. Why is it that you are not acknowledging what (BJP prime ministerial candidate) Narendra Modi says he has done for Gujarat?
Because the track record in Gujarat shows most of this is hype than reality.
Yes, he has got good figures. The state has extremely bad child malnutrition rates. His state is very low in the human development index.
There is ghettoisation of the Muslim community... there are some very serious shortfalls in Gujarat.
The reality is now out and it is not hope, but hype that you see in Gujarat.
If he becomes the prime minister like the polls say...
I don't really believe the polls very much. Given the extraordinary diversity of India, what works in the Western polling system doesn't work in India and it has been proven repeatedly by many polls.
I am not prepared to concede that a man who was responsible for the 2002 riots is going to be the prime minister of India. We will fight it tooth and nail.
You said taking up personal issues during campaigns is cheap. Is not mocking Modi as a chaiwallaH like attacking you on a personal issue?
I won't do that. I am somebody who has come up from a fairly humble middle class family. My father walked barefoot to school. He was a self made man.
I have no political godfathers and no millionaires in the family tree.
But you belong to the elite of society.
If I am in the elite of society, if I have accomplished something, it is on my own hard work.
It is all because of my marks, studies and hard work.
No one got me the best schools or colleges, it is due to my marks and scholarships.
Therefore, I have great respect for those who have come up on their own in life.
My father has taught me the lessons of discipline, hard work and sacrifice.
I respect those qualities. If Modi has those qualities, I will never criticise those qualities.
Your party mocked his humble beginnings...
One Congressman was carried away by his wit and made a comment that he thought was funny.
It was not the party's position to mock Modi's origins.
We criticise Modi's values, conduct as a chief minister in 2002, behaviour and the kind of bigotry that he has shown.
We never criticise his origin or rise which is a matter of pride for every Indian as we have created a democracy that will help people from humble origins to come up to the top.
He has spent a good part of his life as a Rashtriya Swayamsevak Sangh pracharak, which many people think is a good thing, but we think it is a shocking thing to have in your resume.
Would you feel bad if you lose?
I will personally feel disappointed, but I would accept the verdict of the people.
But then I don't expect to lose and I don't intend to lose.
Do you regret having come to politics?
As far as coming into politics is concerned, it has been a rough baptism.
Very, very tough five years.
There is an expression that whatever doesn't kill you, will make you stronger.
So far, I am alive, so I suppose I am stronger.
If you lose, will you quit politics and go back to writing or something like that?
I don't intend to lose. I made a commitment to this country. I have come back after 34 years.
I am not a quitter. I was with the UN for 29 years. I don't know whether I will have 29 years in politics, but I don't intend to end with just 5 years.
Image: Congress Member of Parliament Shashi Tharoor. Photograph: Sreeram Selvaraj