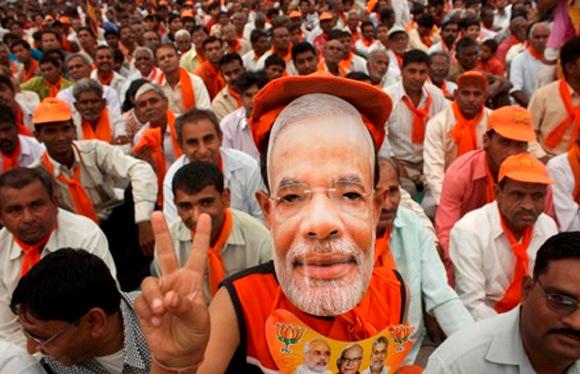 The strong Modi wave, disillusionment with the Akhilesh Yadav-led government and the division of the anti-Modi vote will help the BJP prime ministerial candidate edge closer to the PM's chair, observes Sharat Pradhan.
With election fever in Uttar Pradesh soaring one fact has become more pronounced than ever -- polarisation. And the one person, who is facing this division, is none other than Bharatiya Janata Party's prime ministerial candidate Narendra Modi. With Modi, it's a case of supporting the man 'who industrialised Gujarat' or dismissing him as the 'villain of the Gujarat carnage in 2002'.
And with its 80 seats, Uttar Pradesh plays a crucial role in deciding Modi's fate. Hence, the Gujarat chief minister began his foray into UP way back in October last year and ensured that since then he has remained present and fresh in the minds of the people, by addressing giant rallies across the state.
When a mammoth crowd was witnessed at his first rally in Kanpur on October 19, many had said the crowds were a result of the continuous efforts of Modi's lieutenant Amit Shah, the party's point-man for UP. However, similar scenes of thousands converging to watch the BJP leader amply demonstrated the Modi wave was strong in the state.
Complete Coverage: Election 2014
And as time has passed, the Gujarat CM's persona has become larger than life, reducing other BJP bigwigs to pygmies. Travelling across large parts of eastern and western UP, what has become more visible is that he is transcending beyond the BJP voter. Many are also looking past his alleged role in the 2002 Gujarat riots. "How long are we going to brood over what happened 12 years ago? We need to look forward," is the common refrain of the youth in the area.
And the pro-Modi voices are only becoming louder in the area, be it in the bastions of the Congress supremos – the Gandhis, or the stronghold of Samajwadi Party chief Mulayam Singh Yadav or even in the pocket burrows of Bahujan Samaj Party supremo Mayawati. "I will vote for Modi this time," said 24-year-old Shailendra in Bachchrawan block of Rae Bareli. Voicing similar sentiments, Ram Kumar, a shopkeeper in Jagdishpur area of Amethi said, "I have always voted for Rahul bhaiyya. But there has been no change all these years. I didn't want Modi but somehow he appears to be genuine and offers some hope."
In Varanasi, when 32-year-old taxi driver Sunil Kumar was asked why he was impressed with Modi, pat came the reply, "There were four people who went to Gujarat for work from my family. When they returned home, they only spoke of the development and good stories about the state. They all described Modi as a good CM and hence, I feel he will do well for all."
Other than his Gujarat model, others also seem to be taken up by the fact that Modi has been able to rise beyond his established image of a rabid Hindutva icon. At his first rally in Kanpur, Modi had said, "Humara mahatvapoorn udeshya ye hai ki har Hindu achha Hindu bane; har Musalmaan achha Musalmaan bane, har Sikh achha Sikh bane, har Isayi achha Isayi bane aur har Buddhisht achha Buddhist bane. Aur hum sabko ek saath lekar is desh ko aage baraen (Most importantly, what we need to do is to make every Hindu a good Hindu, every Muslim a good Muslim, every Sikh a good Sikh, every Christian a good Christian and every Buddhist a good Buddhist; and then we must ensure that they all pitch in their energies together to build a good nation)."
Even during his rally in Varanasi where the massive stage was set with a huge backdrop of Lord Shiva's image, Modi chose to steer clear of the touchy issues surrounding the Kashi Vishwanath temple and the Gyanvapi mosque.
Impressed by his ability to shun any reference to Hindutva, Rati Sharma, a software engineer told this journalist at Varanasi's Dashwamedh Ghat, "Unlike other BJP leaders, who could not rise beyond Hindutva, Modi is clearly not interested in digging old graves. He is only focused on development."
Splitting the vote
And while it is amply evident that the pro-Modi vote is strongly united, the anti-Modi vote appears to be clearly divided. And it is the clerics and leaders of different political parties that have helped to divide the anti-Modi vote, helping the BJP leader to forge ahead and fulfil his political ambitions. For instance, in Rae Bareli, influential Islamic cleric Maulana Tauqeer Raza, who had thrown his weight behind the Congress in 2009, is now openly favouring the Bahujan Samaj Party. But poll pundits reveal that his proximity to BJP's Santosh Gangwar could accrue indirect electoral dividends to the BJP by insuring a divide of the anti-Modi vote.
His sworn rival Maulana Subhani Mian, who heads another key sect owing allegiance to the 'dargah' of Ala Hazrat, has decided to ostensibly remain neutral. "I leave it to your own discretion to decide who you should vote for," he said in a statement issued earlier this month.
Significantly, in Deoband, popular cleric Maulana Asad Madani, considered as one of Modi's most vehement opponents, also appealed to people to vote for the 'strongest secular candidate', without naming any political outfit. This once again, helped Modi, as it splits the anti-Modi vote further.
In Rampur, another Muslim-dominated town, the community is sharply divided between the Congress, SP and BSP, hence making it easier for BJP's Nepal Singh and in turn, helps Modi move one step closer to the PM's chair.
The scene is no different in once Rashtriya Lok Dal-dominated Meerut, Baghpat, Kairana, Muzaffarnagar or other neighbouring constituencies of western UP. The SP too has lost a lot of support in the region in the aftermath of the Muzaffarnagar riots, which occurred last August-September. Perhaps, the delayed, albeit heavy compensation packet of Rs 13 lakh to the next of kin of each of the 62 victims killed, may help the ruling SP to rebuild bridges with Muslims.
But even if the pro-SP voices are to be believed, there is no denying that disillusionment with the Congress, failures of the Akhilesh Yadav government, poor impression left behind by the Mayawati regime and above all, a badly divided fight against Modi has boosted his strength to take the juggernaut even beyond the party's own expectations.
Image: Supporters of Narendra Modi don Modi masks during a rally.