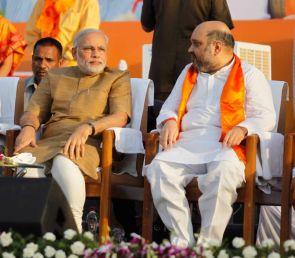 Asserting that it had nothing to fear, the Bharatiya Janata Party on Friday lashed out at the Congress over the 'snoopgate' probe issue, accusing it of "stooping low" in "desperation" and said the next government would be within its rights to review the "malafide" last-minute decision.
As the government declared that the judicial commission to probe 'snoopgate' allegedly involving Narendra Modi will be in place before the Lok Sabha poll process comes to an end on May 16, the BJP accused the Congress of "deliberately" diverting the attention of people from the real issues of unemployment, price rise and corruption.
"They are trying desperately to get at least one judge to agree to head the 'snoopgate' commission. I doubt very much if any of these moves is likely to succeed. Even if it did, the future government would be well within its legitimate rights to review such a malafide last-minute decision of the United Progressive Alliance," BJP leader Arun Jaitley.
BJP leader Ravi Shankar Prasad said, "It is not snoopgate, it is stoop-gate. The home minister of India is stooping to this level. I can see the desperation.... No judge is willing to inquire into it, but they are insisting. We don't fear from you."
He wondered if the ruling party was trying to "pressurise" the judiciary in appointing a judge to the snoopgate commission.
Prasad said while his party had no fear about the snoopgate probe but "I am concerned about the dignity of the office of a judge."
"Are you going to pressurise the judiciary for your collateral, extraneous purposes. This is utter desperation, nothing else," he said.
"We are fighting the election on the issue of growth, on the issues of price rise, unemployment, on stinking corruption."
"They have no response to that and therefore deliberate diversion is being done on the so-called snoopgate. Kapil Sibal and Sushilkumar Shinde are stooping to this level."
"No judge is willing to inquire into it, but they are insisting when after 10 days a new government is going to be in power led by Narendra Modi. This is desperation, helplessness, irritation of the Congress and I can understand it because the people are not giving them any indulgence during their campaign and Congress is going to have its lowest ever performance," he said.

Image: BJP's PM nominee Narendra Modi and his key aide Amit Shah have been accused of snooping on women

Special Coverage: Election 2014