The Aam Aadmi Party has to return to the drawing board and learn from this experience. The party is here to stay and make its mark in Indian politics, says AAP members in the US. Ritu Jha/Rediff.com reports from California.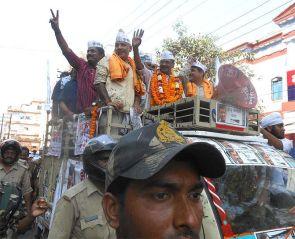 Non Resident Indian supporters of the Aam Aadmi Party, which won only 4 seats of the 434 Lok Sabha seats it contested, said the party's performance was disappointing, but they have not lost hope.
"The results are disappointing, no doubt," said Pran Kurup, AAP NRI spokesperson in the US. "It is a learning process. Rome wasn't built in a day. AAP has to return to the drawing board and learn from this experience. AAP is here to stay and make its mark in Indian politics," Kurup said.

Abhay Bhushan, a senior AAP member and an active promoter of the party in the US, said he was surprised that AAP won 4 seats in Punjab.
"Winning no seats in Delhi was a disappointment. Had AAP focused more on Delhi, they could have got 3 or 4 seats," Bhushan felt.
"If we had contested only 30 to 40 seats with the best candidates, it can be argued that AAP could have won 10 to 12 seats. But then they would not have been able to expand to a national footprint and get over 2 per cent national vote share," he added.

"For a first-time party that is only 18 months old, AAP has done very well," Bhushan said, comparing AAP to other parities like the Lok Satta Party, the Nav Bharat Party and the Bharatiya Janata Party's debut in the 1984 general election.

Parties like Lok Satta, which have been around for almost a decade and was focused only on one state -- Andhra Pradesh -- won only 0.3 per cent vote share and 0 seats in the state. The Nav Bharat Party hardly registered even a blip, he said.
AAP has done twice as well as the BJP did in its first national election when it won just 2 seats.

"The BJP alone spend about Rs 20,000 crore (Rs 200 billion). The total spending by major political parties was over Rs 30,000 crore (Rs 300 billion) compared to the AAP's Rs 35 crore (Rs 350 million). Where did this money come from?" Bhushan asked.
"Why did the BJP and Congress field so many tainted candidates? Who paid for the helicopters and rallies? Will crony capitalists continue to loot the people? Why did the BJP make so many alliances with disparate and desperate parties? Paid propaganda may succeed in fooling all the people some of the time, or some of the people all the time, but not all the people all of the time," Bhushan added.
"No matter what, AAP has already won raising the right issues, in challenging the corrupt powers and parties and awakening the people. AAP has brought the 5Cs of corruption, communalism, criminal candidates, crony capitalism, and centralised control to people's attention. It has brought the focus on improving the the 5Es of education, environment, empowerment, equality and economic development with honest governance," Bhushan said.
"The Lok Sabha results are not a good indicator of local support, as there was a lot of anti-Congress sentiment, and many people did not see AAP having any realistic chance to get a majority, so they gravitated to the BJP to throw the Congress out."

"Irrespective of the results, the movement for change will grow. AAP made mistakes, but it is learning from it, unlike other parties who don't even acknowledge their mistakes. I am hopeful of the future, for meaningful change," Bhushan added.

Shail Kumar, coordinator, University Students 4 AAP in the US, a network of university students over 100 universities, told Rediff.com that AAP had revolutionised politics in India and students have come together from around the world to further fuel this revolution.
Images: Arvind Kejriwal and other AAP leaders in Varanasi, March 25, 2014. Photograph: Sandeep Pal.