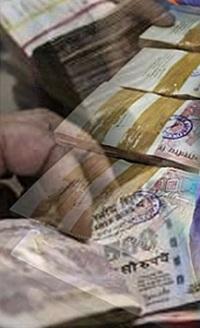 A Ganesh Nadar speaks to a bookie friend to find out all about betting
His father used to run the matka joint in my locality, and now settles disputes in his area. He laughed when I asked to meet a bookie. "Woh bhi bhai hai!" he said, which in Mumbai lingo means that he belongs to the underworld. My bookie contact had started off life as a cloth salesman and went on to become a supervisor in the company. Later his interest in cricket resulted in contact with the bettors. A few lucky guesses and he was hooked.
He quit his job and became a full-time bookie. "I used to bet with other players, when I started betting big amounts the man gave me the next man in the line. That man first accepted my bets for a few days. Then he told me that if I could take bets from others I would get a commission between two and five per cent."
The only advice the other bookie gave him was, 'Never sit at home and take calls and then call me to bet. The cops monitor calls and you will be soon in trouble. Always sit in a crowded sports bar, or any private club where a large number of people sit together and watch cricket. When there are a hundred mobiles in one place they tend to get confused. And change your sim card frequently.'
"I started taking bets from my friends who were as passionate about cricket as me. We always sat in private clubs, Mumbai has thousands of clubs meant for the privileged who can afford the Rs 6 lakh fees a year. I used to bet with the commission I made, so I never lost anything and when I won it was a bonus.
"If you are a new bettor and I don't know you, I will accept a deposit of Rs 30,000 from you, only then can you bet on the phone. The new bettor has to be recommended by a known one. We always do a background check before accepting bets. The cops always have informers around. Once my amounts increased I was put through to the higher-up. Now I am a full-fledged bookie," he looked at his phone sadly. "I have switched off my phone since Sreesanth was arrested."
When I asked him about fixing games he laughed. "Only a foolish reporter would say that a bettor is a gambler but the fixer is a criminal. There cannot be one without the other. We pay out hundreds of crores, how do you think we do that? You think we actually paid all the winners and kept paying even though we lost? Only the naïve would believe that.
"There is a small bookie everywhere. He accepts bets, he makes payment all by himself. All you need to start off as a bookie is the ability to pay the winners. Once the amount exceeds your capacity, you turn the bet over to a higher-up. And this goes upwards and upwards where the circle becomes smaller and smaller. When you give a bet to the higher-up, you get a hefty commission, you don't do anything for free.
"At the top of the heap sits one man. Let's take the IPL final as an example. He knows how much amount is riding on Mumbai and how much on Chennai. He knows kaunsa palda bhari hai. He realises that if Chennai wins then he has to pay out more, if Mumbai wins he has to pay less. He will make sure Mumbai wins."
He laughed when I questioned his ability to fix. "Not me! I am not big enough to fix, but Bhai is". So what do you get out of this, I mean fixing? "You know we make a lot of money for Bhai so out of the goodness of his heart we get suggestions and insinuations about who will win occasionally. I then put a big bet on the winner and collect the winnings. It's our payment for loyalty."
"Please don't ask me about fixing. How will I know about fixing? Even if I know about fixing I cannot do anything. You need to know how much money is riding on both sides before fixing. I know only the amounts that my clients bet. The man above me knows a little more. Only Bhai knows the total amount on each side. The lesser amount always wins. You have to learn to bet on the less popular side. And on that particular day if everyone has the same idea, you will lose.
"We all win some and lose some. Only Bhai wins always. That is the only reason he can pay the winners. So betting and fixing go together. One does not work without the other. Without fixing there would be no one to pay the winners. And without bettors there would be no one to fix. You want to be a bookie, all you need to know is about 10 people who are passionate about cricket. I will be your contact."
He smiled as we shared a cutting chai that the matka owner's son had ordered for us.