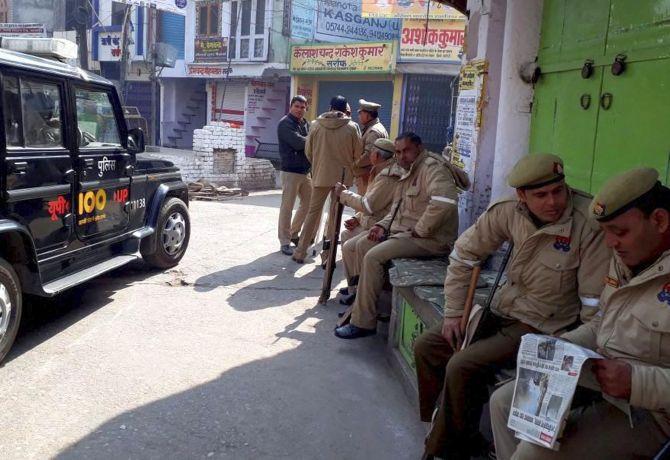 Uttar Pradesh Chief Minister Yogi Adityanath on Tuesday broke his silence on Kasganj violence promising action against those involved even as politics brewed over the clashes with Union minister Giriraj Singh claiming that media would have chosen a 'different' line if the killed youth was from the minority community.
Meanwhile, a middle-aged person, Rahul Upadhyay, on Tuesday scotched rumours being spread on the social media that he was killed in clashes.
"One of my friends informed me about rumours on the social media about me getting killed during the violence, but I was not present in Kasganj. I had gone to my village and am absolutely fine," Upadhyay said.
Bharatiya Janata Party hardliner Vinay Katiyar, known for his controversial utterances, also waded in the row saying there were some 'miscreants who support Pakistan' who could go to any extent to defy the tricolour.
"Our government is committed to provide security to each and every citizen. Anarchy has no place in the state," Chief Minister Adityanath told reporters in Lucknow, his first comments on the clashes.
Centre seeks report from state government
The Centre sought a report from the UP government on the communal clashes
in Kasganj.
In a communication, the Union home ministry asked the state to send a comprehensive report about the violence and the steps taken to restore peace in Kasganj and its adjoining areas.
The state government has also been asked to provide details about the steps taken to punish those involved in the violence, the official said.
Adityanath warned of 'strict action' against the perpetrators of violence.
Union Minister Giriraj Singh said that he felt the violence was planned.
"Had the deceased been Mohammad Ismaayil instead of Chandan Gupta, there would be been a different debate in the media... We have to change this mindset," Giriraj Singh told reporters in Lucknow.
The Union minister said he felt the Kasganj incident was 'pre-planned' adding that the Adityanath government would not spare anyone involved.
Giriraj Singh also referred to Bareilly District Magistrate Raghvendra Vikram Singh's comments on Facebook that appeared to blame right-wing groups for provoking communal clashes.
"I have come to know that a bureaucrat has made some remarks on why some are raising 'Pakistan murdabad' slogans. I want to ask why not raise Pakistan murdabad slogan. We raise this slogan as Pakistan kills our soldiers and is involved in spreading cross border terrorism," the minister said.
The DM's now-deleted post said a 'strange trend' that had begun of late was to visit Muslim majority areas and raise slogans against Pakistan.
'Why? Are they (Muslims) Pakistanis?' The same thing had happened in Khailam village of Bareilly. Then stones were thrown, FIRs lodged," the officer's post had said.
A short service commission Army officer before joining the civil services, Raghvendra Vikram Singh, 59, was last year posted as the district magistrate of Bareilly, about 100 km from Kasganj.
He put up the Facebook post on Sunday, just two days after 22-year-old commerce student Chandan Gupta died in communal clashes that broke out in a Muslim-majority locality of Kasganj during a 'Tiranga bike rally' by members of the local unit of the Rashtriya Swayamsevak Sangh-affiliated students' group Akhil Bharatiya Vidyarthi Parishad.
Minister of State for Food Processing Sadhvi Niranjan Jyoti said the incident should not be politicised.
BJP MP Vinay Katiyar, however, told a news channel that those who 'support Pakistan' were behind the violence.
"Earlier, there were no communal clashes in Kasganj district as all lived in harmony. But it has come to light that there are some miscreants who support Pakistan and will go to any extent to defy the tricolour. They need to be dealt with strictly," he said.
Katiyar claimed Gupta, who died of a bullet injury, was killed by the 'supporters of Pakistan'.
"Nothing like this had happened in the state under Yogi Adityanath's government, this is a first such incident which has taken place," Katiyar asserted expressing confidence that action will be taken.
Stray incidents of violence were reported from the western Uttar Pradesh town which continued to be tense with a heavy deployment of Rapid Action Force and Provincial Armed Constabulary personnel to keep a check on rumour mongers and trouble makers.
A shopkeeper's store was burnt down in the communal violence-hit district on Monday night.
"I have been living and working here for the past 20 years. Even though I am the only Muslim among a Hindu majority, we never had any problems," the shopkeeper said.
Some miscreants tried to create trouble on Tuesday by damaging a dome-like structure on the wall of an Eidgah, located in Amanpur, about 25 km from the district headquarters, officials said.
The police and administration controlled the situation immediately, District Magistrate R P Singh told reporters in Kasganj.
"In Amanpur, some anti-social elements tried to foment trouble by damaging a dome-like structure on the boundary wall of an Eidgah. But, due to the swiftness of the police and administration, the situation was controlled," he said.
Meanwhile, the BJP MLA from Kasganj today demanded that Chandan Gupta should be accorded the status of a 'martyr'.
In a letter to the CM, Kasganj MLA Devendra Singh Rajput said, 'We demand that Chandan Gupta should be accorded the status of a martyr'.
He said the killers of the youth should be tried for treason and strict punishment given to them.
'Two family members of the deceased should be given jobs. A traffic roundabout about should be named after him and his bust size statue should be installed there,' he demanded.
A peace committee, formed by the district administration, met on Tuesday evening to review the situation and appealed to all sections of the society to maintain harmony.
The Uttar Pradesh government has come under fire over the clashes with even Governor Ram Naik terming the Kasganj violence a 'blot' on the state.
Opposition parties have also attacked the state government over the clashes.
The Adityanath government has already replaced the district's Superintendent of Police.
Director General of Police O P Singh has said those behind the violence will be dealt with under the ambit of the National Security Act.
Over 100 people have been sent to jail under various sections of the Indian Penal Code for their alleged role in the violence.
Some illegal arms were also recovered during raids, an official said.
IMAGE: Security personnel keep a tight vigil in Kasganj. Photograph: PTI Photo