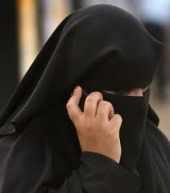 The Lashkar-e-Tayiba on Thursday threatened Kashmiri women of dire consequences if they do not wear veils. They also issued a threat to panches and sarpanches to resign from their posts immediately.

The threat was conveyed through posters, which were pasted in the Aharipal village near Tral, in south Kashmir's Pulwama district. The posters, in Urdu, were signed by Abdullah Mujahid, the LeT commander for Jammu and Kashmir.

The LeT has asked women to adhere to the "strict Islamic dress code". They also threatened the elected village heads to step down.
Five panches and sarpanches have been killed in Kashmir so far by suspected terrorists, Many other village heads have submitted their resignations following repeated threats from terror outfits. Village councils have been pressing the government to provide them security in the face of the threats and the killings.
The threat to women is not new in Kashmir. Various militants groups had earlier also asked the women to step out of their homes only in 'purdah'.
The militants had in early 1990 forced closure of cinema halls and wine shops in the Valley.