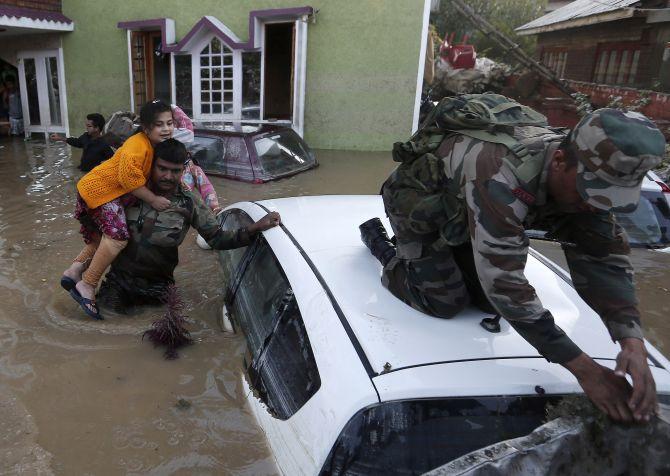 Indian army soldiers rescue a Kashmiri girl from her flooded house in Srinagar. Photograph: Adnan Abidi/Reuters
Traumatised by a four-day long ordeal in a submerged indoor stadium in Srinagar, over 200 students now rescued by the army cursed state government for false assurances but give credit of their survival to the teachers.
"I am alive because of my teachers. This second life of all of us was a gift to all of us by them who were more than our parents to us in the battle for life and death," said Amit, a student trapped in the stadium.
The students, who were trapped for past four days and now evacuated in a joint meticulous operation by Indian Army jawans, Central Reserve Police Force and sports teachers, gave credit for their survival to S Charak, a teacher and Taekwondo expert.
After four days of battling in the flood water without food, 175 students were rescued by the army and taken out to safe shelters today.
Complete coverage: The Jammu and Kashmir floods
Narrating his experience of leading his students to safety, Charak said when water level went up, we along with few students broke the wall expecting that it will go down but it ultimately went up further due to flooding.
"We formed boats from foam mattresses with the help of some students and took one by one the students to safety (on the higher side of the indoor stadium). We were later helped by the CRPF who prepared a bridge for us to go up," Charak said.
In this way we managed to take all the children to safe place, where they remained trapped for last few days, he said adding, finally army carried out the rescue operation to evacuate us.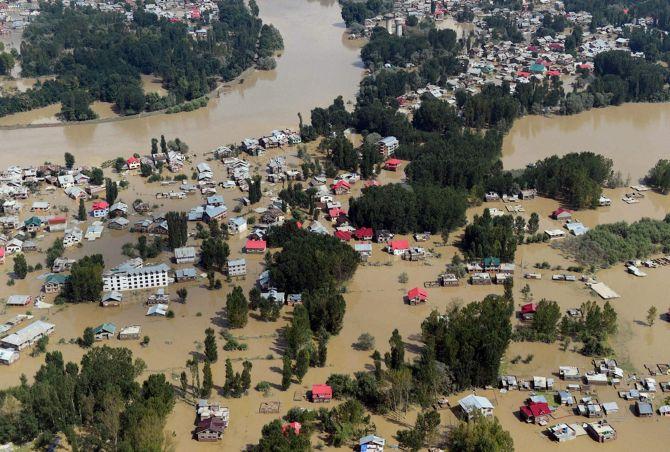 An aerial view of Srinagar submerged after the floods. Photograph: PTI photo
Quoting "Himat-e-Marda, Madad-e-Khuda", the teacher said that they worked unitedly to achieve this mission. He said that students were furious over the false promises by the state government about their rescue as despite dozens of distress calls to the state authorities they did not get any help.
"We sought help from the state administration to rescue us in view of increasing water levels and were told for wait for 10 minutes as the boats would reach there to evacuate us," an irate student said adding had we waited for those 10 minutes, all of us would have perished in the floods.
Cursing the state government of false promises, the students said none of the boats from the state administration reached us, until these army personnel came on Thursday to rescue us.
"We were left to die. We will never forget in our life how our teachers have done for us to save our lives," they said.
A female student lashed out at the state government and the district administration for total failure to come to the help of the people and praised the efforts of army by saying "there was no response from the government. If this is the government by the people, of the people and for the people, we do not want such government which will leave us to die in the floods".