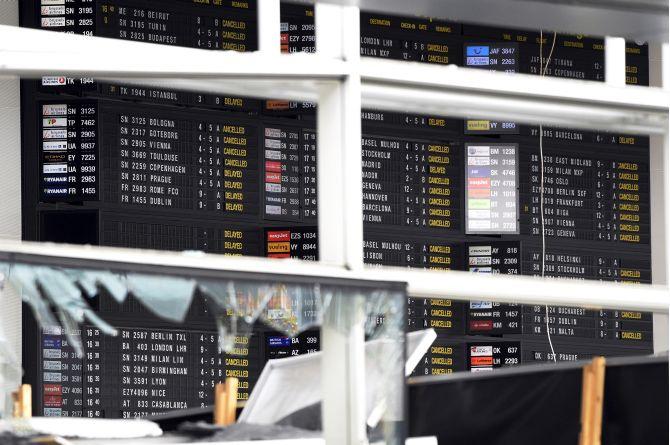 With authorities deciding to shut operations at terror-hit Brussels airport on Thursday as well, private carrier Jet Airways said on Wednesday it will ferry its stranded passengers from Amsterdam, which is all set to become the airline's new European gateway for international flights from Sunday.
The airline has deployed 15 coaches to transfer its stranded passengers from Brussels to Amsterdam on Wednesday. It has also cancelled all its flights to and from Brussels till Saturday.
The airline will accommodate these passengers in various hotels during the night prior to flying them to their respective destinations from Amsterdam, an airline spokesperson said on Wednesday night.
All the airline's guests will travel on Thursday to Amsterdam in 15 buses and will be accommodated there in hotels.
At the same time, Jet Airways aircraft will fly from Brussels to Amsterdam as ferry flights, it said.
'There will be no passenger flights into and out of #brusselsairport tomorrow Thursday 24 March. Contact your airline for flight information,' Brussels airport authorities had tweeted earlier in the day.
The authorities have, however, allowed limited operations for ferry flights and cargo services.
Guests will board the Jet Airways aircraft at Amsterdam airport for onward travel to Delhi, Mumbai and Toronto, the airline said, adding alternative arrangements are being made for guests travelling to Newark.
Brussels airport serves as the Mumbai-based airline's European hub for its international operations, which is now being relocated to Dutch capital Amsterdam from Sunday.
Meanwhile, Jet Airways Chairman Naresh Goyal spoke to External Affairs Minister Sushma Swaraj on Wednesday.
'Chairman @jetairways Naresh Goyal has spoken to me. He has assured that all Jet passengers will be transferred to Amsterdam today itself,' Swaraj said in a series of tweets late in the evening.
"They will be flown to their destinations tomorrow," she said in another tweet.
Swaraj also said she has asked Indian Ambassador to Netherlands J S Mukul to provide them all assistance there.
Jet Airways also said it was closely monitoring the situation in Brussels.
The airline's Emergency Response Centre in Mumbai and the Local Incident Control Centre in Brussels are working round the clock to provide all possible support to the airline's staff and guests, it said.
'Our staff is with the guests at each of the locations in Brussels and providing assistance to ensure they are comfortable,' it said.
The carrier has also deployed its teams from India and Continental Europe to help in the coordination efforts, it said.
Image: A flight schedule board is seen through broken windows inside the terminal at Brussels International airport on Wednesday. Photograph: Yorick Jansens/Pool/Reuters