The latest to join the list of Congress leaders calling for an overhaul in the Congress is Sonia Gandhi-loyalist Janardhan Dwivedi.
Rediff.com contributor Renu Mittal reports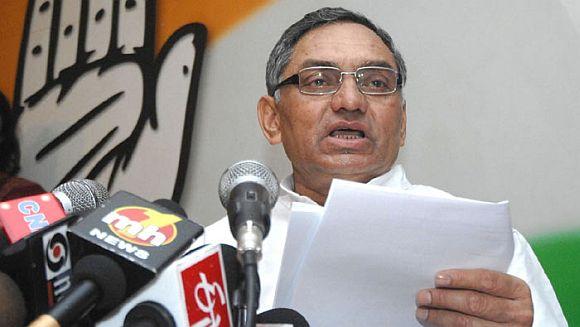 All India Congress Committee general secretary Janardhan Dwivedi has created a flutter by saying that the "party leadership should not only speak, but also have the courage to listen".

The long-time Sonia Gandhi loyalist made the remarks when asked about the different voices of dissent and criticism emanating from various Congress leaders since the defeat in the general elections where the party won just 44 seats.
Dwivedi's words have made both party leaders and workers sit up since he is known to choose his words carefully and has never expressed diffident or criticism as he is known to have Sonia's ears on crucial issues.
But his relations with party vice president Rahul Gandhi have been a matter of speculation.

In recent times, some close aides of the leader have hinted that he is unhappy with Rahul's style of functioning, the manner in which the latter has been running the party and the way that the election campaign was conducted.
Dwivedi's comments come after a number of leaders have spoken against the leadership.

Punjab leader Jagmeet Brar was issued a show-cause notice after he gave a press statement on what measures the leadership should have taken after the defeat and also said that both Sonia and Rahul should take leave and spend the two years touring the country.
Former MP Raj Babbar has targeted the United Progressive Alliance ministers, saying that the party lost because of the ministers. He said they did not even meet MPs let alone party workers.
It is now no longer a secret in the Congress that Rahul has been targeting senior leaders and wants to bring in younger elements into key organisational posts and is pushing the same people who were seen to be behind the party's defeat in the general elections as there is simmering anger against Rahul's team within the Congress.
The questions being asked in the AICC are whether Dwivedi's remarks are part of a hit-back by the senior party leadership against Rahul and whether others too will begin to speak up on the manner in which the Congress is being run.

Or will the showdown be postponed till after the upcoming assembly elections where the Congress is expected to continue its losing trail.