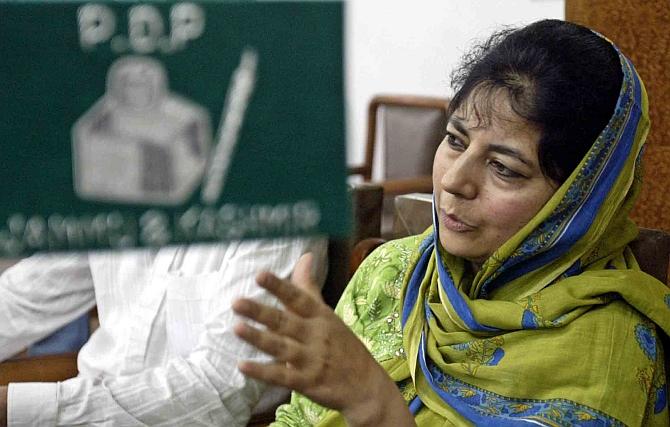 Amid the uncertainty of government formation in Jammu and Kashmir, People's Democratic Party chief Mehbooba Mufti will meet Prime Minister Narendra Modi in the national capital on Tuesday.
Mufti, who reached New Delhi on Monday for talks with the Bharatiya Janata Party leadership, has called for a legislature party meeting on March 24.
The state is under Governor's rule since the death of chief minister Mufti Mohammed Sayeed three months ago.
Mehbooba was in Delhi last week during which she held talks with BJP president Amit Shah.
However, as per reports, her meeting with the prime minister failed to take place and she returned to Srinagar.
PDP-BJP negotiations had hit a roadblock last week when Mehbooba returned to Srinagar on Saturday morning as her expected meeting with Modi to seal a deal did not happen.
The PDP had asked for assurances for time-bound implementation of the Agenda of Alliance -- the common minimum programme between the PDP and the BJP.
Former chief minister Omar Abdullah, in the meantime, held a meet with Jammu and Kashmir Governor N N Vohra in Jammu, which assumes significance as uncertainty over the government formation is deepening.
Interacting with reporters, Omar said, " Mehbooba is rushing to Delhi is her last ditch effort to safe her party, because she has realised that if the PDP doesn't form a government on terms and condition set by the BJP, her party will split. If her party splits, she would be in much weaker position than she is today. Clearly she is trying to safe her party."