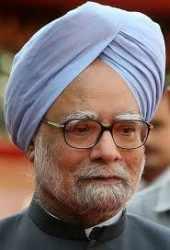 Prime Minister Manmohan Singh on Tuesday termed as "unacceptable" Italy's refusal to send its two marines back to India where they were facing trial for killing two fishermen and said the issue will be taken up with that country.
Dr Singh conveyed this to delegations of Kerala MPs from Left and the Congress, who met him separately to express anguish and demand his intervention in the "serious" matter.
The prime minister said it was "unacceptable", according to Communist Party of India-Marxist MPs K N Balagopal and M B Rajesh. Dr Singh told the Left MPs that he will ask External Affairs Minister Salman Khurshid to take up the issue with Italy. His comments came in the wake of the Italian foreign ministry statement that the marines Massimiliano Latorre and Salvatore Girone will not return to India from Italy where they had gone to cast vote in last month's elections after special permission granted by the Supreme Court.
The two marines are facing trial for allegedly killing two fishermen off the Kerala coast in February last year, mistaking them for pirates. The Italian ministry claimed India had not responded to its requests to seek a diplomatic solution to the case and there was now a formal dispute between the two countries over the terms of the United Nations Convention of the Law of the Sea.
Khurshid said the government is studying Italy's decision, its reasons as also implications. "We will study and take a rightful position... We will take informed position," he told reporters on the issue which is very sensitive in Kerala politics.
Rajesh said, "We met the prime minister and took up the issue of Italian marines. The prime minister told us that he came to know about this from newspapers. He assured us that he will ask the External Affairs Minister to look into this issue to intervene in this issue."
Balagopal alleged that it was "the result of a high level conspiracy between somebody holding the highest post in Indian government and Government of Italy." He, however, did not specify.
A delegation of MPs from the Congress-led United Democratic Front also met the PM separately. "More than saying whether this is acceptable or not, the prime minister has said that he will ask external affairs minister to take up this issue and use all diplomatic channels to bring them back," Congress MP P C Chacko said after the meeting. MPs from Indian Union Muslim League and Kerala Congress-Mani were also part of the delegation.
Law Minister Ashwani Kumar said the Ministry of External Affairs and his ministry will consult with each other and "make sure that we proceed ahead as effectively as we can." He observed that "there are complications" as the issue relates to a foreign country. "We are dealing with foreign diplomats within the framework of the established diplomatic conventions and norms," Kumar said. At the same time, he emphasised that the government needs to ensure that Indian laws and court processes are "respected by foreigners".
Congress Vice President Rahul Gandhi was asked by reporters in Parliament House to comment on the issue but he did not answer.