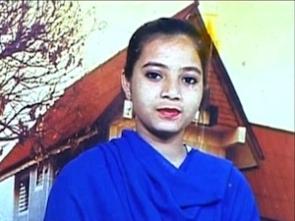 The Supreme Court on Friday refused to entertain a Public Interest Litigation seeking quashing of criminal prosecution, suspension and other action taken against the Gujarat cops in the 2004 alleged fake encounter killing of Ishrat Jahan in view of the recent testimony of jailed Lashkar-e-Tayiba operative David Headley.
"What is the purpose of article 32. You cannot file such a case under it. If you wish, you can go to the high court under article 226 of the constitution," a bench comprising Justices P C Ghose and Amitava Roy said minutes after lawyer M L Sharma started arguments in the case.
However, the bench clarified that it was not dismissing the petition on merits when Additional Solicitor General Tushar Mehta sought a clarification on this issue.
"Any person having locus can approach the appropriate authority," the bench said paving way for the affected Gujarat policemen including then DIG D G Vanzara to move the court for their exoneration in the politically sensitive case.
The plea seeking quashing of action taken against the Gujarat cops refers to the statement of Headley, the Pakistani-American terrorist, recorded before a Mumbai court that Jahan was a Lashkar operative.
The Gujarat police personnel, including ex-cop Vanzara, are facing trial in a Mumbai court for their alleged role in the encounter.
The plea, which cited the recent statements recorded by Headley, who allegedly conspired with LeT in plotting the 26/11 Mumbai attacks, said the facts are now undisputed that all four persons killed by the Gujarat police, including Ishrat Jahan, were terrorists.
"The judicial proceeding and statement of David Headley stated via video conference and recorded in the special court at Mumbai that four persons, including Ishrat Jahan who were killed in June 2004 by the Gujarat police, were part of LeT terrorist organisation belonging to Pakistan and they were assigned to kill then Chief Minister of Gujarat, Narendra Modi," it said.
The plea had sought a direction to close criminal proceedings and action taken in FIRs lodged by the CBI against the Gujarat police personnel and others, saying it was unconstitutional within the judicial facts and evidences of Headley.
It had also sought a direction from the court declaring that killing of a terrorist is not an offence under Indian law and proper compensation be paid to the state police personnel in the interest of justice.
It also wanted initiation of suo motu perjury/contempt proceedings against the then home minister and the CBI director for concealing true facts before the Supreme Court and the Gujarat high court and for filing a false affidavit pertaining to facts about the case.