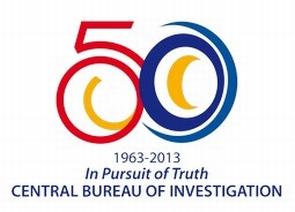 The Central Bureau of Investigation has sought the help of Gujarat police to trace a top police officer, who is an accused in the fake encounter case of Ishrat Jahan and three others.
"We received correspondence from the CBI to help them trace Additional Director General of Police, Crime Investigation Department (Crime and Railways) P P Pandey and accordingly, local police and CID were ordered to help the central probe agency in locating him," Director General of Police Amitabh Pathak said.
Pandey went missing in April this year after applying for a sick leave.
"Pandey was served a notice and his leave records and other documentary details were shared with the CBI, which could be of help to the agency in tracing him," the DGP further said.
"CID has been ordered to pass on any leads regarding his location to the probe agency," Pathak added.
Another senior official said neither the local police nor the CID have been asked to arrest or detain Pandey as it is the duty of the CBI to arrest him.
"CBI has only sought help to locate him, not to arrest or detain Pandey," sources said.
The special CBI court had also issued an arrest warrant against him on May 2 for failing to respond to the summons of the probe agency.
A CBI probe team had searched his home, his office and his home in his native state Uttar Pradesh but could not trace him.
A 1980 batch IPS officer of the Gujarat cadre, Pandey was the joint commissioner of police at the city crime branch.
On June 15, 2004, Ishrat Jahan and Javed Shaikh alias Pranesh Pillai, Amjadali Akbarali Rana and Zeeshan Johar were killed in an encounter on the outskirts of Ahmedabad.
During the last hearing in the Gujarat high court, which is monitoring the investigations of the alleged fake encounter case, the CBI in its report had accused Gujarat police of protecting officers accused in the case.
"It has come on record in the present investigation that some of the higher state police officers are protecting, shielding and siding with the police officers who are accused in this case," the court had observed after reading the CBI status report about their investigations in the case.
The Gujarat police had at the time of encounter claimed that all four were terrorists on a mission to kill Chief Minister Narendra Modi.