Handing the Human Resource Development ministry to a first-time minister and the talk of repealing Article 370 may be signs that Prime Minister Narendra Modi and the Rashtriya Swayamsevak Sangh are already working in tandem, says Rediff.com contributor Renu Mittal.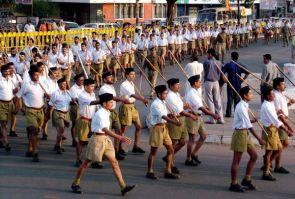 Human Resource Development Minister Smriti Irani and Minister of State Dr Jitendra Singh found themselves in controversy, on their first day on the job.
Irani was targeted by Congress leader Ajay Maken who tweeted: 'What a Cabinet of Modi? HRD Minister (Looking after Education) Smriti Irani is not even a graduate! Look at her affidavit at ECI site pg 11.'
Irani is not the only member of the Narendra Modi ministry who is not a graduate. Cabinet Minister for Food Processing Industries Harsimrat Kaur Badal is only a matriculation pass. Uma Bharti, the Cabinet minister for Water Resources, River Development and Ganga Rejuvenation, has only studied till Class 5. Maneka Gandhi, the Cabinet minister for Women and Child Development, is a Class 11 pass.
So why was Irani targeted by the Congress?
The Human Resource Development ministry is one of the Rashtriya Swayamsevak Sangh's key portfolios.
Even though Irani has never been a member of the RSS and is a first-time minister, she is considered close to the prime minister. The HRD portfolio is a reward for being part of his core team.
First-time Lok Sabha member Jitendra Singh, who was a surprise choice for the Prime Minister's Office, said the Modi government is open to a debate on the merits and demerits of Article 370 for Jammu and Kashmir and would make efforts to 'convince' the 'unconvinced' by holding contact programmes with every section of society in the state.
Building the Ram mandir, repealing Article 370 are part of the RSS agenda which the Sangh Parivar will try and push since the Bharatiya Janata Party now has a majority on its own in the Lok Sabha.
The fact that it has been put on the table from day one may be an indication that Modi and the RSS are working in tandem.
The BJP thinks these issues will create the right polarisation to help the party consolidate Hindu votes.
Jammu and Kashmir Chief Minister Omar Abdullah reacted strongly to Dr Singh's statement, saying Article 370 is the only provision that acts as a link between his state and the rest of India and if it is repealed J&K will no longer be a part of India. People's Democratic Party chief Mehbooba Mufti too reacted sharply to Dr Singh's comment.
Rao Inderjeet Singh, who left the Congress and joined the BJP, has been inducted as a minister in the Modi government. He has been named minister of state for defence. Ironically, he was removed as minister of state for defence production in the Congress government after a Central Bureau of Investigation filed a case against him. Now, he has been given the same portfolio.
Image: Rashtriya Swayamsevak Sangh members in Bhopal. Photograph: Raj Patidar/Reuters