The Congress party's first list of 194 Lok Sabha candidates released on Saturday night has no major surprises. Anita Katyal reports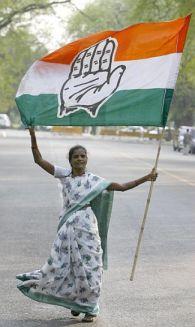 The more things change, the more they stay the same, it is often said. This could well apply to the Congress party which failed to deliver any surprises in its first list of 194 Lok Sabha candidates released on Saturday night.
Except for a few new entrants like former Infosys cofounder Nandan Nilekani, cricketer Mohammad Kaif, well-known lawyer Vivek Tankha and Atal Bihari Vajpayee's niece Karuna Shukla, the grand old party decided to play it safe and opted for status quo.
There had been a strong view in the Congress after its crushing defeat in last year's assembly elections and the successful debut of the Aam Aadmi Party in Delhi. The party felt it should take a fresh look at its policy of renominating sitting MPs and should instead field new faces if an incumbent candidate fails to deliver.
However, the party decided against making any drastic changes as it feared it would then have to contend with rebellion in its ranks on election-eve.
As it is, reports of desertions from the party continue to pour in everyday. Former Union minister D Purandeshwari has joined the Bharatiya Janata Party, former Andhra Pradesh chief minister Kiran Kumar Reddy has floated his own party and sitting MP from Uttar Pradesh Jagdambika Pal announced his resignation on Saturday.
In addition, the Congress suffered a big blow in Odisha when its legislature party leader Bhupinder Singh and Congress Legislature Party secretary Anup Sai joined the ruling Biju Janata Dal on Saturday.
The Congress has also decided against the suggestion that Pradesh committee presidents should not be fielded so they can concentrate on managing the election in their respective states.
Madhya Pradesh Congress chief Arun Yadav, Uttar Pradesh Congress president Nirmal Khatri and Charan Das Mahant who heads the party's Chhattisgarh unit have been renominated. The newly-appointed state presidents Ashok Tanwar (Haryana) and Sachin Pilot (Rajasthan) do not figure in the first list but that's because they want to shift to a new constituency.
Tanwar is being considered for the Ambala seat instead of Sirsa while Pilot wants to move out of Ajmer, as they are both facing an uphill battle in their old constituencies. Similarly, Punjab Congress president Pratap Singh Bajwa, who represents the Guradaspur seat, has also sought change as he is apparently not sure of retaining his seat but the party leadership is insisting that he should contest from his present seat. The matter is yet to be resolved.
Going by the party's unwritten norm of "sitting getting" most candidates have been repeated.
In Madhya Pradesh, incumbent MPs -- Kamal Nath from Chhindwara, Jyotiraditya Scindia from Guna, Meenakshi Natarajan from Mandsaur and Kantilal Bhuria from Ratlam -- are on the list. Renowned lawyer Vivek Tankha is the only new name in the Madhya Pradesh list released on Saturday.
It's the same story in Uttar Pradesh. Congress president Sonia Gandhi and vice-president Rahul Gandhi will contest from their family bastions Rae Bareli and Amethi, respectively. Union ministers Sriprakash Jaiswal (Kanpur), Jitin Prasad (Dhaurahra) and RPN Singh (Khushi Nagar) have been repeated along with Annu Tandon from Unnao and Parvin Aron from Bairelly.
Sanjay Singh, who represented the Sultanpur constituency in the last elections, has been replaced by his wife Amita Singh. Sanjay Singh was recently accommodated as a Rajya Sabha candidate from Assam in an attempt to mollify him after he threatened to leave the party. Had he been allowed to go, Sanjay Singh could have created problems for Rahul Gandhi in Amethi, which is adjoining Sultanpur.
The Rampur seat, currently held by former Samajwadi Party MP Jaya Prada, has been allotted to Begum Noor's son Kazim Ali Khan. Jaya Prada, in line to join the Congress, is being considered for the Moradabad seat, presently represented by former cricketer Mohammad Azharuddin, who is being shifted to West Bengal.
However, their names are yet to be finalised. Jaya Prada's candidature is contingent on former SP leader Amar Singh's entry to the Congress which has yet to be cleared. Actor-politician Raj Babbar, who won the Firozabad seat last time, is being considered for the Ghaziabad seat, as reports suggest that it will be difficult for him to win this constituency. Again, there is no finality in this regard as his name was not included in the first list.
The candidates from Punjab whose names were cleared include sitting MPs Perneet Kaur from Patiala, Vijendra Singla from Sangrur and Ranveet Singh Bittoo from Anandpur Sahib. But the suspense over the nomination of Information and Broadcasting minister Manish Tewari continues. Tewari has been eyeing the Chandigarh seat, currently represented by former Railway minister Pawan Kumar Bansal, as he is not sure of retaining his Ludhiana seat.
Bansal resigned from the ministry following reports of irregularities committed by his relatives. Both Tewari and Bansal have been kept waiting.
The other familiar names in the Saturday list include Priya Dutt (Mumbai Central), Milind Deora (Mumbai South), Gurudas Kamat (Mumbai West), Sanjay Nirupam (Mumba) North), Vilas Muthemwar (Nagpur), Lok Sabha Speaker Meira Kumar from Sasaram and former Kerala governor Nikhil Kumar from Aurangabad, both from Bihar.
Nikhil Kumar, who resigned as governor earlier this week, was replaced by former Delhi chief minister Sheila Dikshit.
There is no word so far on the candidature of scam-tainted Suresh Kalmadi and former Maharashtra chief minister Ashok Chavan, who had resigned following his alleged role in the Adarsh housing scam. If they are denied tickets, the two would like their wives to be nominated instead.
Image used for representation purpose only