Terrorist group Islamic State has published a photograph in its official online English-language magazine Dabiq which it claimed was the 'improvised bomb' that brought down the Russian Metrojet Flight 9268 over Egypt's Sinai Peninsula last month.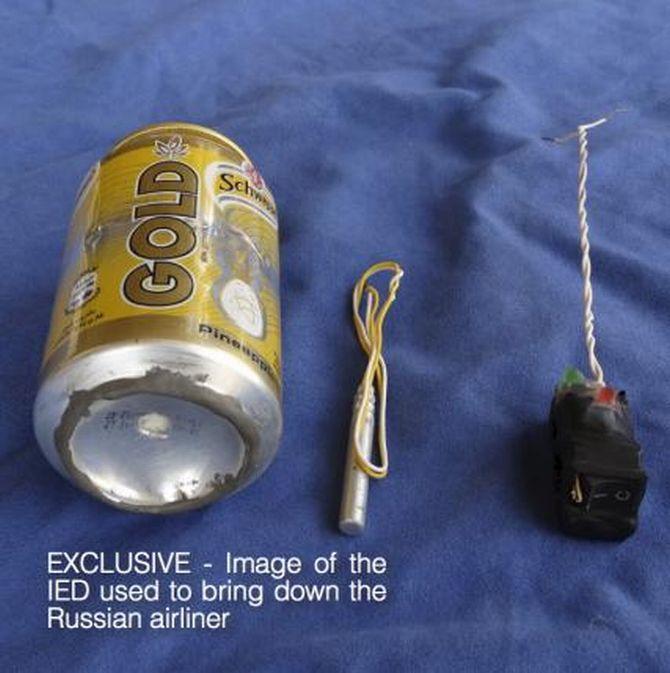 A photo published by the Islamic State in its online magazine shows a can of Schweppes Gold soft drink and apparently a detonator and a switch, which it said was used as an IED to down a Russian passenger jet in Egypt last month.

The magazine claimed that the plane was bombed using an improvised explosive device, hidden inside a can of Schweppes Gold soft drink. Next to the can, the image showed what appeared to be a detonator and switch.
The terror group also published a photo of 'passports belonging to dead Russians obtained by the mujahideen'.
The magazine said that earlier, the terror group wanted to bomb a plane belonging to 'another nation participating in the American-led Western coalition' against it, but the target was later changed to a Russian plane.
The IS claimed that the bomb was 'smuggled' into the plane, without explaining how.
However, it was not possible to verify the authenticity of the photos and claims made by the group online.
Metrojet Flight 9268, en route to St Petersburg from Egypt's Sharm el-Sheikh International Airport, crashed over Sinai peninsula on October 31 shortly after the take-off, killing all 224 people on board.