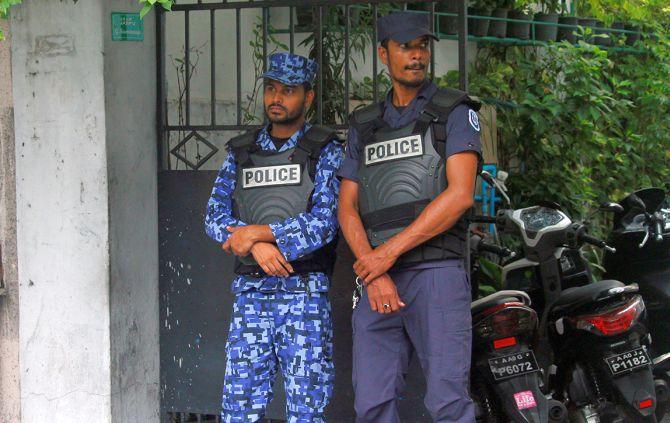 Two foreign journalists, including an Indian national, have been detained in the Maldives for working in the country in violation of its immigration rules, the Maldivian police said on Friday amid political turmoil in the island nation.
Maldives Police has handed over the two journalists, a British national and an Indian National, to immigration authorities, the police said in a statement.
"These individuals were found to be working and reporting as journalists while on a tourist visa, in contravention to the Immigration Act and Regulations," the statement said.
"We urge all foreign nationals to adhere to immigration guidelines and acquire the relevant visa that corresponds to the purpose of their visit. We note that several foreign journalists are currently working in the Maldives and welcome all those who wish to do so in the future," it said.
India has asked its embassy in the Maldives to ascertain the details pertaining to the detention of the Indian national.
"We have received information about an Indian national, Shri Money Sharma, working as a journalist, who has been detained by the Maldivian authorities. We have asked our embassy to get in touch with the local authorities to ascertain more details of the case," external affairs ministry spokesperson Raveesh Kumar said.
The action against the two journalists came as a privately-owned television station in the Maldives went off the air, citing threats during the country's current state of
emergency.
Rajje TV, which highlights the views of the political opposition, said in a statement that it stopped broadcasting because the country's environment does not allow journalists to report freely and independently, the AFP news agency reported.
Male, which has seen several political crises since the ouster of its first democratically-elected president Mohamed Nasheed in 2012, plunged into chaos last Thursday when the Supreme Court ordered the release of nine imprisoned Opposition politicians, maintaining that their trials were "politically motivated and flawed".
Maldivian President Abdulla Yameen has refused to obey the court orders and declared a state of emergency in the country.
Maldives' Supreme Court Chief Justice Abdulla Saeed and another judge, Ali Hameed, were arrested hours after Yameen declared a state of emergency. Former president Maumoon Abdul Gayoom was also arrested.
International community has asked the Yameen government to restore the constitutionally guaranteed rights of the people and institutions.
United Nations human rights chief Zeid Ra'ad Al Hussein has called the declaration of a state of emergency in the Maldives and the resulting suspension of constitutional guarantees an "all-out assault on democracy."
Prime Minister Narendra Modi and US President Donald Trump have expressed concern about the political situation in Maldives over a phone call, the White House said on Friday.
Image: Maldivian police officers stand guard on a street after Maldives President Abdulla Yameen declared a state of emergency for 15 days, in Male, Maldives. Photograph: Stringer/Reuters