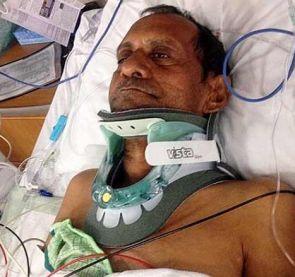 An Indian grandfather, who was violently assaulted by an American police officer in February 2015, was slammed to the ground and left paralysed in 101 seconds after encountering police despite pleading for five times that he does not know English, a United States court has been told.
The retrial of police officer Eric Parker, accused of violently assaulting 58-year-old Sureshbhai Patel that left him partially paralysed, began in the last week of October in a federal court in Alabama.
Parker is charged with violating the civil rights of Patel following an encounter in a Madison neighbourhood off County Line road on February 6.
As the retrial of Parker began in Alabama, Assistant US Attorney Robert Posey told the jury that the grandfather had told the police officer "no English" five times.
Patel said "India" three times and pointed to his son's home and kept trying to walk the officers toward his home, Posey told the federal jury on Tuesday.
Presenting a strong case, Posey sought 10 years imprisonment for Parker for using excessive force in the leg sweep takedown that left Patel in need of spinal surgery.
However, appearing on behalf of Parker, defence attorney Robert Tuten told the jury that the escalation of force was largely the fault of Patel.
"When you come to the US, we expect you to follow our laws and speak our language. Patel bears as much responsibility for this as anyone," he said.
Claiming that Patel understands the word "stop", Tuten alleged that despite this he walked two steps, then seven steps and then nine more steps as police attempted to question him.
Thereafter, Patel reached for his pockets, which could have contained a weapon, he added.
Parker's retrial has 14 members in jury, of which 11 are women and three are men.
During the trial, Posey alleged that Parker threatened Patel.
"Mr Parker kicks Mr Patel's leg out from under him and at the same time pushes his head and shoulders full force into the frozen ground," he alleged.
Tuten alleged that Patel not taking his hand out of his pocket was dangerous for Parker.
If you act like a criminal you are going to be treated like one, he told the jury.
"It's unfortunate that he didn't speak English. But in America that's the language that we speak," he said.
Patel was on a walk when the incident happened.