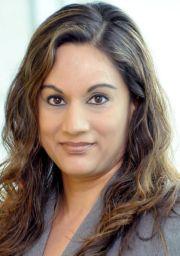 Manisha Singh, an erstwhile senior staffer of the Senate Foreign Relations Committee and a former political appointee during the George Bush Administration, has landed a top job as the executive director of the Barer Institute based at the University of Washington School of Law in Seattle.
Singh, who earlier served as the deputy assistant secretary of state in the bureau of economic, energy and business affairs, will be the first executive director of the Barer Institute for Law and Global Human Services.
"I am thrilled to be the first executive director of the Barer Institute, and am very much looking forward to working under the leadership of Dean Kellye Testy," the Uttar Pradesh-born Singh said.
The Barer Institute was created by a gift from UW Regent and Law School campaign chair Stan Barer and his wife Alta. The Institute will study and promote the effectiveness of legal frameworks as essential elements in achieving goals for human health, education, and social and economic well-being in developing countries.
Barer said, "It is my and Alta's hope that the Barer Institute for Law and Global Human Services will provide legal roadmaps for the establishment of enforceable duties and the resultant enjoyment of rights for the receipt of basic health care, educational and economic opportunity wherever those problems are most pressing in the globe."
He acknowledged that "it is a lofty goal, but one that is close to our hearts and can no longer only be addressed by medicine and science".
Singh said it was a privilege for her to join in these crucial efforts to advance humanitarian causes.
"Lawyers at the Institute will complement the important work that is currently being conducted by many divisions of UW as well as the greater Seattle community," she said.
Singh said the Barer Institute would serve as a resource and think-tank by providing innovative ideas on effective policies to advance the humanitarian goals of the US government on a bi-partisan basis.
"The Institute has a broad focus and will endeavor to find solutions for the most pressing problems in any region that is in need. I have already started to study the issues in South Asia to determine where we can be of help, and I would like to make India a big part of the programme at the Institute," she said.
Singh acknowledged that many organisations delivered immediate aid such as food or medicines for "many ongoing global crises as well as major natural disasters".
But, "parallel to these aid efforts, we should also be developing a long-term, sustainable solutions for the provision of basic necessities in the developing world."
She pointed out to the significant foreign aid and resources US provided, and said that "we need to assist developing countries in creating their own systems of education, healthcare and emergency aid, and, we need to measure the progress of these developments."
As deputy assistant secretary at the state department, Singh was responsible for promoting trade and development issues within the foreign policy context. Her section led the department's efforts on food security and she represented the US at the United Nations conference on World Food Security in 2008.
She also served as deputy assistant secretary in the Bureau of International Organisation Affairs, where she developed US policies on human rights, humanitarian, health, and public diplomacy issues at the UN and served as a key liaison to UN international organisation missions in New York, Geneva, Paris, Vienna and Rome.
Singh is an alumnus of American University's School of Law from where she received her Masters of Law in international legal studies, the University of Florida College of Law, from where she received her JD at age 22, and the University of Miami from where she did her BA at the age of 19.
Image: Manisha Singh