United States President Barack Obama on Monday praised budding Indian American teenage scientists and their desire to question assumptions, to wonder why something is the way it is, and how it could be made better.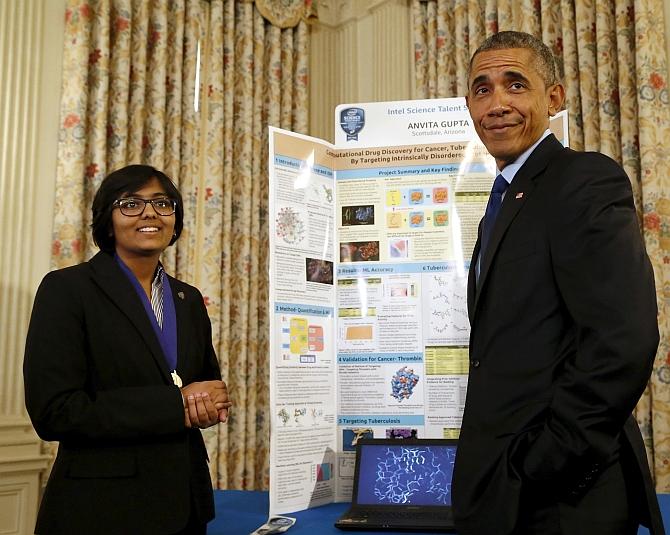 Image: US President Barack Obama deadpans a remark to reporters about how impressed he is by the work of Anvita Gupta, 17, from Scottsdale, Arizona, about developing a computer algorithm to assess drugs' effectiveness, as Obama plays host to the 2015 White House Science Fair at the White House in Washington. Photograph: Jonathan Ernst/Reuters
Anvita Gupta, 17, of Scottsdale, Arizona, winner of Third Place Medal of Distinction for Global Good, was one of the participants of the fifth White House Science Fair which was attended by several other Indian-origin teenagers -- Trisha Prabhu from Illinois, Sahil Doshi from Pittsburgh, Nikhil Behari from Pennsylvania and Ruchi Pandya from San Jose.
When Gupta explained how she had used an algorithm to help identify possible new drugs to treat Ebola, cancer and tuberculosis, Obama turned to the press, grinned and said, "I don't know what you all have been doing. But this is what she
has been doing".
"It is unbelievable what so many of these young people have accomplished at such an early age," Obama said after his personal interaction and viewing of some of the exhibits on display.
This year's White House Science Fair has a specific focus on diversity and includes more than 100 students from 30 states, representing more than 40 science competitions and organisations.
Thirty-five student teams exhibited their projects.
Obama personally viewed 12 of these exhibits.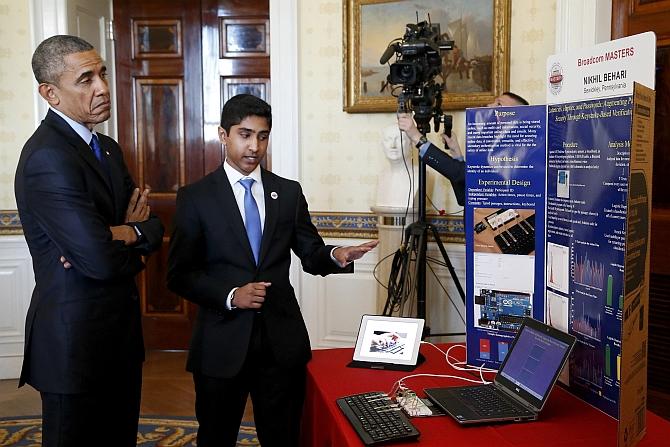 Image: US President Barack Obama reacts while listening to Nikhil Behari, 14, from Sewickley, Pennsylvania, who is designing a biometric security system for computers to help identify a user by their typing style. Photograph: Jonathan Ernst/Reuters
Prabhu showcased her computer program 'Rethink' that alerts users when an outgoing message contains language that is potentially abusive and hurtful.
Ninth-grader Doshi exhibited the design of his innovative carbon-dioxide powered battery called PolluCell.
Behari showcased the easy-to-use security system developed by him which is versatile and effective in protecting online data.
Pandya exhibited the one-square centimetre carbon nanofibre electrode-based biosensor that has the potential to improve cardiac health diagnostics for patients around the world.
In his remarks later, Obama specifically mentioned Nikhil.
"He's a freshman in high school, interested in how we can better protect ourselves against hackers and data thieves online. So scientists are already using biometrics to prove that each of us walk in our own distinct ways," he said.
"And Nikhil wondered, what if we each type in a distinct ways? So he collected all kinds of data about how a person types -- their speed, how often they pause, how much pressure they use and built a special keyboard to test it. And he proved that his hypothesis was correct -- that even if somebody knows your password, they don't necessarily punch it in exactly the way you do," he said.
"He asked why -- and made discoveries that now could help keep our online accounts more secure. So in the future, if keystroke-based authentication keeps your siblings from breaking into your Facebook account or your Instagram account, you will know who to thank. It will be Nikhil. Congratulations," Obama said amidst applause.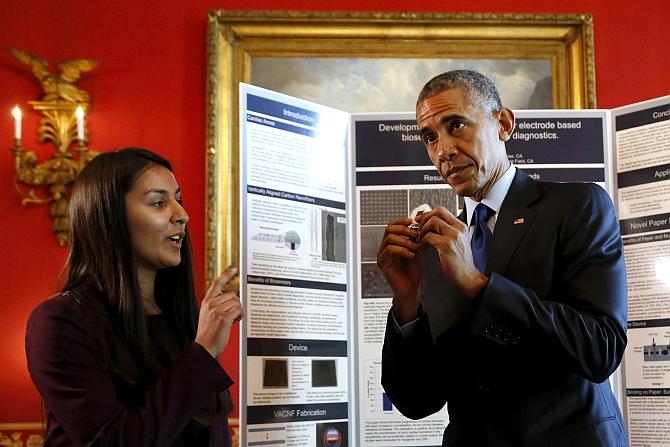 Image: US President Barack Obama speaks with Ruchi Pandya from San Jose, California, who was born congenital scoliosis, about her nanotechnology project to test biological samples. Photograph: Jonathan Ernst/Reuters
Ruchi, Obama said found a way to use a single drop of blood to test a person's heart function, much like a person with diabetes tests their blood sugar.
And the President, did not forget Anvita in his speech.
"Anvita used artificial intelligence and biochemistry to identify potential treatments for cancer, tuberculosis, Ebola. What she's done is she's developed an algorithm that could potentially significantly speed up the process of finding drugs that might work against these diseases," he said.
"Anvita's algorithm has the potential of speeding up pathways to discovering what drugs would work on what diseases, and is consistent with some of the work that we announced around precision medicine that we are funding at a significant pace here at the White House," Obama said.
"Now, I should point out that, like several of the young people here, Anvita and Ruchi are first-generation Americans. Their parents came here, in part, so their kids could develop their talents and make a difference in the world. And we're really glad they did," Obama said.
Obama said these young scientists and engineers teach something beyond the specific topics that they're exploring.
"They teach us how to question assumptions, to wonder why something is the way it is, and how we can make it better. They remind us that there's always something more to learn, and to try, and to discover, and to imagine -- and that it's never too early, or too late to create or discover something new," he said.
"That's why we love science. It's more than a school subject, or the periodic table, or the properties of waves. It is an approach to the world, a critical way to understand and explore and engage with the world, and then have the capacity to change that world, and to share this accumulated knowledge.
"It's a mindset that says we that can use reason and logic and honest inquiry to reach new conclusions and solve big problems. And that's what we are celebrating here today with these amazing young people," Obama said.