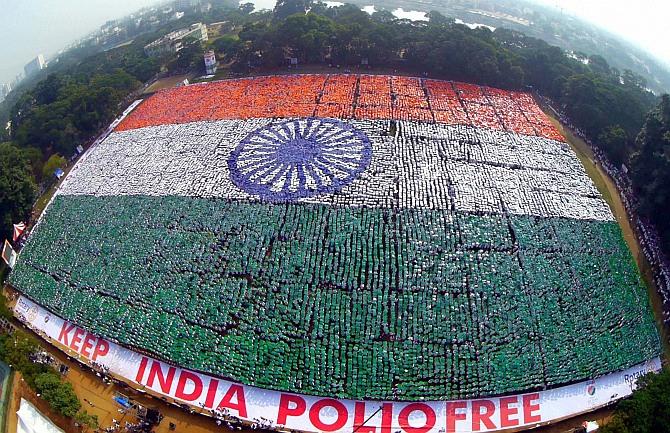 India on Sunday set a new world record for the largest human flag, formed by over 50,000 volunteers, beating the previous record held by Pakistan.

The event saw about 1.5 lakh volunteers, mainly youth, turn up for the event at YMCA Grounds here even as 50,000 of them formed the tricolour, Governor of Rotary 3230, organiser of the 'My Flag My India' campaign, ISAK Nazar, told reporters in Chennai.
The Guinness World Record for the largest human flag was previously held by the Sports Club of Lahore with 28,957 people forming the flag, he said.
"This is the first record (of its kind) in independent India and our aim was to infuse patriotism and nationalism in the present generation and next-generation youth," he said, adding, youngsters formed the crux of the participants.

Guinness official Syeda Subasi presented the certificate validating the attempt. She described the effort as a 'historic moment' for India and lauded the participants for turning up early in the morning.

Photograph: PTI Photo