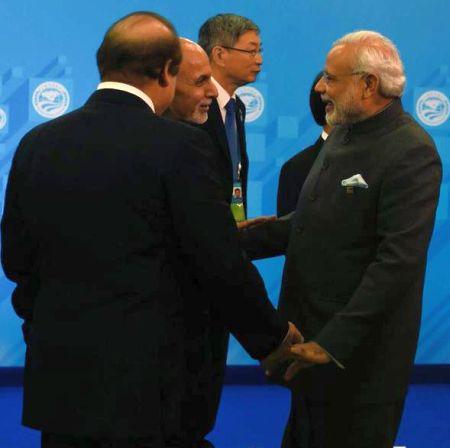 Shanghai Cooperation Organisation on Friday decided to include India as a full member, prompting Prime Minister Narendra Modi to offer to work with the six-member grouping to enhance connectivity, combat terror and create an environment for boosting trade by easing barriers.
India, which has an Observer status for the past 10 years, will technically become the member by next year after completion of certain procedures.
Beijing-based SCO currently has China, Russia, Kazakhstan, Kyrgyzstan, Uzbekistan and Tajikistan as members.
Along with India, the process to include Pakistan as a member was also initiated.
"I convey our deep sense of gratitude to the members of SCO for accepting India as a full member," Modi said after the announcement was made at the Summit, attended by leaders like Russian President Vladimir Putin, Chinese President Xi Jinping and Pakistan Prime Minister Nawaz Sharif.
"Our membership of Shanghai Cooperation Organisation is a natural extension of the relationships that India has with member countries and mirrors the region's place in India's future," he said.
Noting that India's membership "reflects the natural links of history", he said, "it will also promote peace and prosperity in this vast region that has often been called the pivot of human history".
Modi said the membership also advances the shared vision to reconnect and integrate Eurasia's different region.
India was made an Observer in the SCO in 2005 and it made an application last year for full membership of the grouping whose focus is on connectivity, counter-terrorism cooperation, bolstering cooperation in energy sector, enhancing trade and dealing with drug trafficking.
"We will work with SCO to combat terrorism and extremism that is a rising threat to the entire region. A stable and peaceful Afghanistan is a future that the Afghan people richly deserve, but it will also advance peace, stability and prosperity in the region," the PM said.
"As we look forward, we would lend our support to improving transportation and communication networks in the region. We can create a vast network of physical and digital connectivity that extends from Eurasia's northern corner to Asia's southern shores. The International North South Transportation Corridor is a step in that direction," he said.
Modi, who attended the SCO Summit soon after his bilateral meeting with Sharif, congratulated Pakistan for joining the SCO. "I also take this opportunity to congratulate Pakistan on joining the SCO," he said.
Image: PM Modi with Afghan President Ashraf Ghani and Pak PM Nawaz Sharif. Photograph: @MEAIndia/Twitter